NBA: LeBron James and Chris Bosh lead Miami Heat to 21st straight victory
LeBron James and Chris Bosh each scored 28 points as the Heat beat the Bucks 107-94 for their 21st straight win.
Last Updated: 16/03/13 12:24pm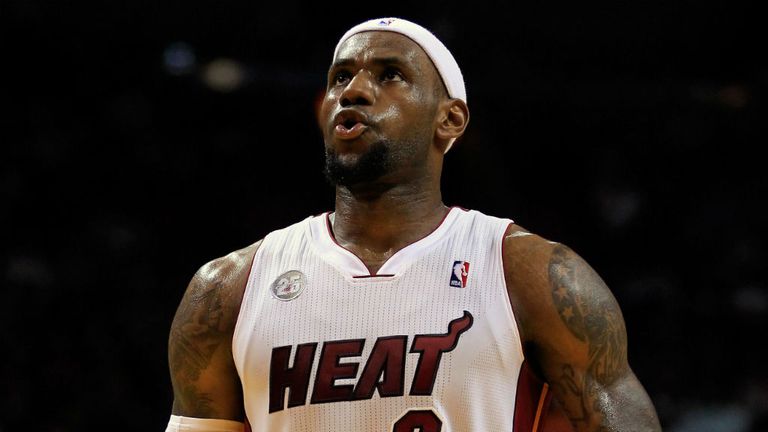 The Heat now trail just the legendary 1971-72 Los Angeles Lakers (33) and the 2007-08 Houston Rockets (22) in longest NBA winning streaks.
Miami led by as much as 17 in the third quarter, then withstood a push by the Bucks to remain unbeaten since a loss at Indiana at the start of last month.
Dwyane Wade finished with 20 points as the Heat avenged a loss at Milwaukee in late December.
Bryant leaves early
The Los Angeles Lakers found a way to win without injured star Kobe Bryant, holding off the Indiana Pacers 99-93.
Bryant, who hurt his ankle two nights ago against the Atlanta Hawks, was 0 for 4 in the first quarter before going to the bench.
He did not return and was held scoreless for only the 15th time in his 17-year NBA career.
Dwight Howard finished with 20 points and 12 rebounds, while Metta World Peace had 19 points for the Lakers.
Thunder rumble to win
Kevin Durant scored 26 points and Russell Westbrook added 23 to help the Oklahoma City Thunder keep up their dominant play at home with a 117-104 victory over Orlando while the Rockets rallied from 20 points down in the third quarter to beat the Timberwolves 108-100.
In Atlanta, Josh Smith made a strong return to the Hawks' lineup with 17 points, 11 rebounds and seven assists in a 107-94 victory over Phoenix.
Smith had missed one game with a sprained left knee. All five Atlanta starters scored in double figures, with Al Horford adding 16 points and 11 rebounds.
The Chicago Bulls bounced back from their most lopsided loss of the season to whip Golden State 113-95.
Luol Deng scored 23 points and Carlos Boozer had 21 points and nine rebounds for Chicago, two nights after a 121-79 shellacking at Sacramento that renewed calls for Derrick Rose's return.