NBA: New York Knicks make play-offs; Miami Heat extend winning run to 25
The New York Knicks clinched a place in the NBA play-offs with a 99-94 victory over the Toronto Raptors on Friday.
Last Updated: 23/03/13 11:40am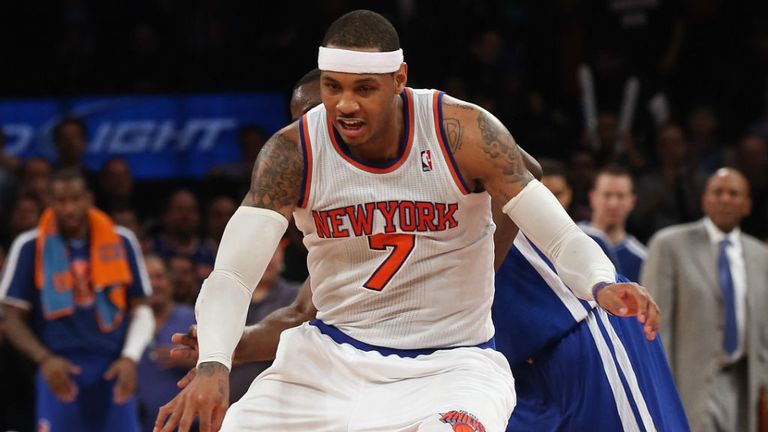 Carmelo Anthony, who has only just recently returned to action from a knee injury, scored 37 points as the Knicks secured their 41st win of the campaign.
He was helped out by 19 points from Kenyon Martin, who also contributed 11 rebounds. Alan Anderson had a career-high 35 points in a losing cause for the Raptors, including equalling a franchise record with 20 in a quarter.
Elsewhere, the Miami Heat stretched their winning run to 25 games with a 103-89 result against the Detroit Pistons.
The Heat actually trailed by 11 in the first half but LeBron James led a comeback, pouring in 29 points and also grabbing eight rebounds and providing eight assists.
Dwyane Wade contributed 19 points as the Heat moved a step closer to the Los Angeles Lakers' 1971/72 record of 33 straight victories. Greg Monroe poured in 23 points at AmericanAirlines Arena for the beaten Pistons.
Parker perfect
The Utah Jazz saw their losing run extended to three as they went down 104-97 after overtime against San Antonio, Tony Parker top-scoring for the Spurs with 22.
The Oklahoma City Thunder returned to winning ways after two losses with a 97-89 triumph over the Orlando Magic.
Wesley Matthews scored 28 points as the Portland Trail Blazers won 104-93 against the Hawks in Atlanta, while 22 from Dirk Nowitzki lifted the Dallas Mavericks to a 104-94 triumph over the Boston Celtics.
Trevor Ariza's 25-point haul helped the Washington Wizards rally from 18 down to see off the Los Angeles Lakers 103-100, though Utah's slump means the Lakers remain clear in the eighth and final play-off slot in the West.
The Minnesota Timberwolves snapped a nine-game losing streak on the road with a 117-86 victory over the Suns in Phoenix while the Indiana Pacers dominated the Milwaukee Bucks 102-78.
Robin Lopez (23 points) helped ensure back-to-back wins for the New Orleans Hornets - they saw off the Memphis Grizzlies 90-83 - and the Houston Rockets thrashed the Cleveland Cavaliers 116-78.