Carmelo Anthony helps New York Knicks to series win over Boston Celtics
Carmelo Anthony bagged 21 points to help New York Knicks seal a 4-2 series win over Boston Celtics.
Last Updated: 04/05/13 11:32am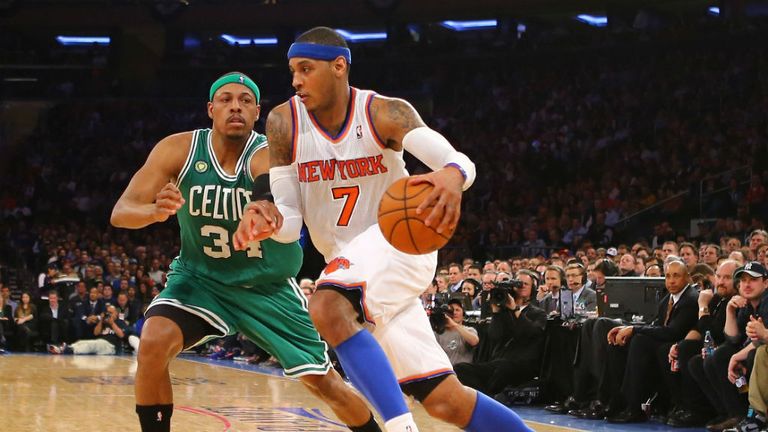 An 88-80 win over the Boston Celtics saw the Knicks wrap up a 4-2 series victory, their first in the post-season since 2000.
Anthony sank his first three-pointer in 20 attempts to give the Knicks an 84-75 lead late on, ending a Boston rally as well as a personal drought from the arc which stretched back to Game 3 of this series.
Anthony finished with 21 points while Iman Shumpert had 15 of his 17 points after the half-time interval.
The Knicks led by as many as 26 points but let the Celtics score 20 straight and get back within four before Anthony hit a jump-shot and then that long-awaited three.
Jeff Green had 21 points to lead the Celtics, who had come back from 3-0 down in the series but could not force a Game 7.
The Indiana Pacers booked their passage in rather less dramatic circumstances, topping the Atlanta Hawks 81-73 behind 21 points apiece from George Hill and David West. Roy Hibbert added 17 points and 11 rebounds.
The Oklahoma City Thunder also wrapped up a 4-2 series win as they topped the Houston Rockets 103-94.
Kevin Durant had 27 points and Kevin Martin 25 to beat a Houston team who were without the injured Carlos Delfino. James Harden led Houston with 26 points.
The Memphis Grizzlies completed the set of advancing teams on the night, with a 118-105 victory over the Los Angeles Clippers sealing a 4-2 series win.
Mike Conley and Zach Randolph had 23 points apiece as the Grizzlies completed their comeback from 2-0 down in the series.