NBA: Roy Hibbert not fazed by physical play ahead of Game Two with Miami Heat
Roy Hibbert says he is ready to stand up to any physicality from the Heat in Game Two of the Eastern Conference finals.
Last Updated: 24/05/13 9:13pm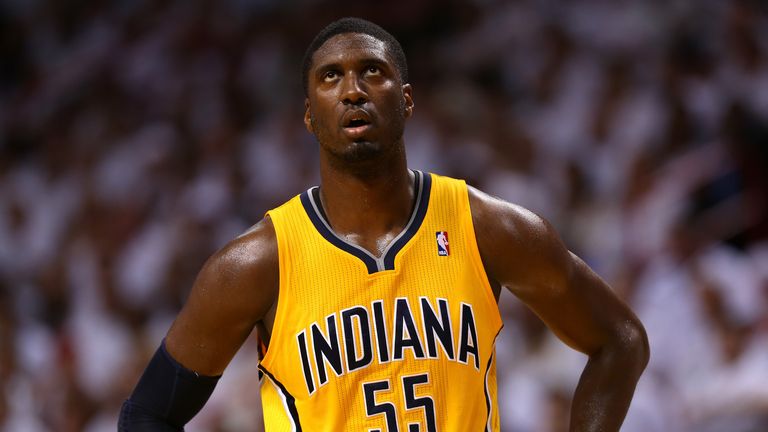 A last-gasp lay-up in overtime from LeBron James saw defending champions Miami take a 1-0 lead in the series ahead of Friday night's second game at AmericanAirlines Arena, which can be seen live on Sky Sports.
Pacers coach Frank Vogel has come under fire for not having Hibbert - an explosive defensive presence in the paint - on the floor when James made the game-winning shot.
But the 7ft 2in centre's ire has focused on Miami forward Shane Battier in the aftermath of the contest following an incident in Game One which saw Hibbert hit in the midsection by Battier's knee.
Battier drove to the basket with his knee out in front of him and Hibbert believes the contact was intentional.
"I've never seen (Battier) do that before. I didn't think that was cool of him. I personally thought it wasn't a regular shooting motion for a layup, his knee was out to begin with," Hibbert told ESPN.
"It was him saying, 'I'll hit you first now, and maybe you won't be there later on', and I'm saying, 'I'm going to be there'."
Hibbert has gained attention for his dominant shot-blocking so far this post-season and has nullified several players who attempt to drive to the basket aggressively.
But Heat coach Erik Spoelstra refused to be drawn on suggestions that his team were trying to intimidate Hibbert with physical play, instead choosing to focus on the on-court action.
"The game will be decided between the four lines tonight. Everything else is just talk," he said.
NBA live: Indiana Pacers @ Miami Heat, Eastern Conference Finals Game Two, 1.30am Saturday morning, Sky Sports 1 HD.