NBA: Tim Duncan led the San Antonio Spurs to another overtime win
The San Antonio Spurs are just one win away from a place in the NBA finals after another victory over Memphis.
Last Updated: 26/05/13 12:35pm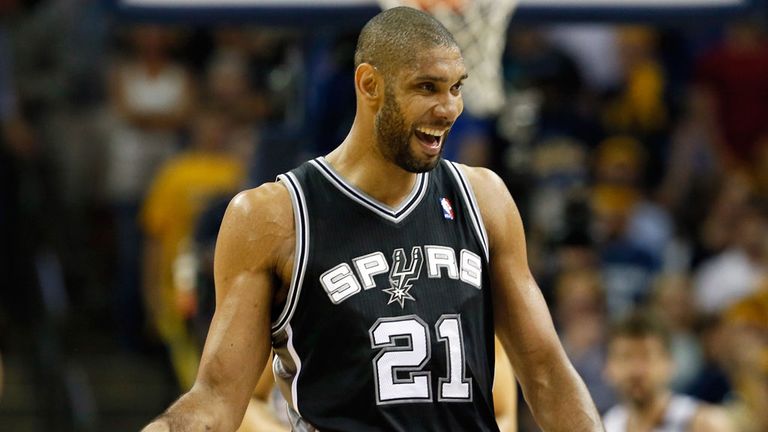 The Spurs overcame a slow start to secure a second straight overtime win and take a commanding 3-0 lead in the Western Conference finals series.
San Antonio started terribly, missing their first five shots and giving up five steals in less than four minutes.
Coach Gregg Popovich reacted by taking all five of his starters off at once but the deficit rose to 18 points, despite that unusual move.
However, when the starters returned they showed renewed focus, and the Spurs clawed their way back into the game, taking the lead for the first time when Danny Green hit a three-pointer 15 seconds into the final quarter.
The visitors led by six with 19 minutes left but Memphis responded to tie it up and almost won in regulation time, only for Mike Conley to miss with a running lay-up.
Big night
But the Spurs dominated overtime, Tim Duncan scoring the first five points of the extra session and finishing the night with 24 points and 10 rebounds.
Popovich said: "He was huge the other night in overtime and he did it again tonight. He feels responsibility to carry us in those situations."
Spurs point guard Tony Parker scored 26 points and handed out five assists, while Manu Ginobili chipped in with 19 points and pulled down seven rebounds.
Conley finished with 20 points for Memphis but made only 8-of-21 shots from the floor.
Marc Gasol finished with 16 points and 14 rebounds while Zach Randolph scored 14 points, with 15 rebounds.
Memphis will host game four on Monday knowing that no team has ever rallied from an 0-3 deficit to win a seven-game NBA play-off series.