NBA Finals: San Antonio Spurs can take commanding 2-0 lead against the Miami Heat
The Spurs can take a stranglehold on the NBA Finals with victory in Game Two against Miami on Sunday night.
Last Updated: 09/06/13 4:21pm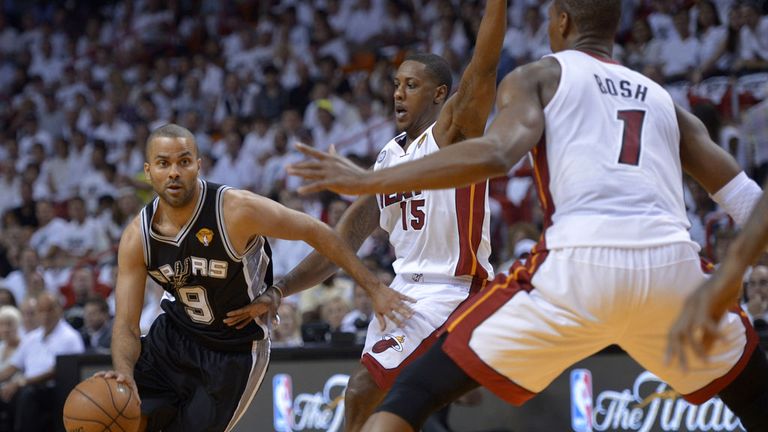 The Spurs won the opening exchange of the seven-game battle on Thursday and will head back to the AmericanAirlines Arena in Miami with the aim of going 2-0 up.
While it is not impossible to come back from such a deficit - the Heat managed to do so against the Dallas Mavericks in 2006 - the fact that the following three games will be played in San Antonio makes a second defeat especially daunting for the defending champions.
League MVP LeBron James knows that the Heat need to produce a victory, but Miami's star player insists his team's intensity was already as high as possible at the start of the series.
"I think with the importance of a (play-off) game, the urgency should already be there," James said.
"That is what play-off basketball is all about, you can't afford to not play with a sense of urgency in a play-off game."
James has led the charge for the Heat so far during the post-season as the other members of Miami's vaunted 'Big Three' - Dwayne Wade and Chris Bosh - have struggled to hit top form.
"Play-offs ain't fun, man. I'm sorry to bust anyone on the outside's bubble," Wade said.
"As a player in the play-offs, you have no joy until it's over and you won. If you don't win, you have no joy for a while."
In contrast Tony Parker, whose Spurs swept the Memphis Grizzlies 4-0 in the Western Conference finals, says his team have not been affected by the pressure of the occasion.
Parker said: "We're definitely having fun. I think we appreciate every moment and we don't take anything for granted.
"Because it's been a long time (since the Spurs have been in the NBA Finals) - six years - it felt like forever."
NBA Finals live: San Antonio Spurs @ Miami Heat, Game Two, 1am, live on Sky Sports 1 HD.