San Antonio Spurs ace Danny Green breaks three-point finals record
San Antonio Spurs' Danny Green says he feels "blessed" after setting an NBA Finals series record of 25 three-pointers.
Last Updated: 17/06/13 10:31am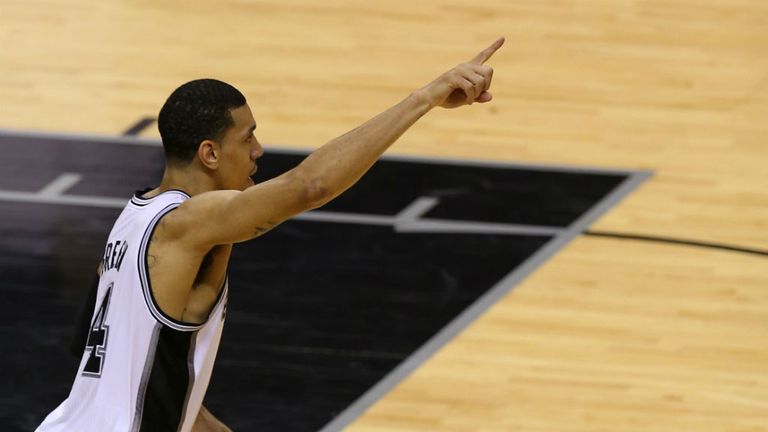 Green landed six from 10 attempts from outside the arc in Game Five as San Antonio took a 3-2 series lead over the Miami Heat with a 114-104 home victory.
That took him past the previous best of 22 - set by Miami's Ray Allen during his time at the Boston Celtics in 2008.
And Green was pleased with how the finals have gone for him so far.
"It seems everything is going right for me. I feel truly blessed," Green said. "The basketball gods are in our favour right now."
"It's an honour to be even playing on the same floor as some of these guys. Growing up, I watched him [Allen] play all the time. To think I broke a record of his is surreal."
Unbelievable
With at least one game left to play when the series moves back to Miami for Game Six and, if required, Game Seven, the former Cleveland guard will have a chance to add to his record tally.
And team-mate Tim Duncan is hoping Green can do just that and that his great form continues.
"He's been unbelievable. Especially on this stage," he said. "He's been shooting the ball so well.
"We're asking him to defend Dwyane Wade and LeBron (James) and all these guys. He's got a lot on his shoulders and he's stepped up and answered the bell."
Spurs coach Gregg Popovich was also full of praise for the player he twice cut before finally being convinced by him last season.
"When you do it for 82 games, the only thing left is to see if you can do it when the real lights come on in playoff time," said Popovich. "He's pretty much answered that question."