Stage set for thrilling Game Seven in NBA Finals
All eyes are on Miami as the NBA Finals reaches a thrilling climax on Thursday night.
Last Updated: 20/06/13 11:05am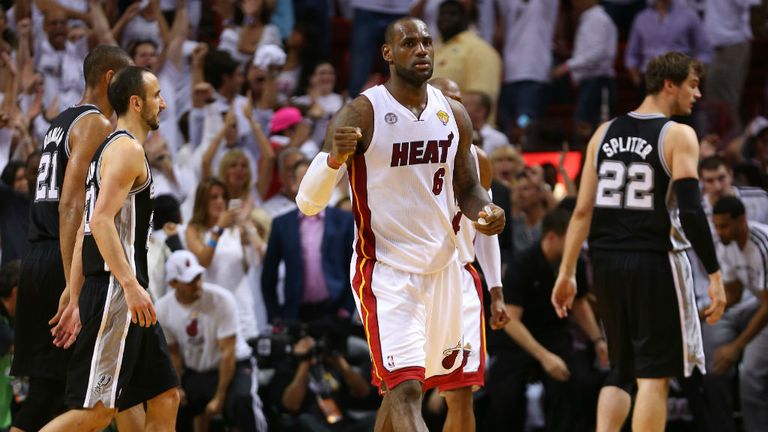 The teams have produced a thrilling standard of play and athleticism which peaked with Miami's exhilarating overtime win on Tuesday that tied the series at 3-3.
With everything on the line for Game Seven, the stakes could not be higher with millions of people around the world expected to tune in for Thursday's grand finale, which you can catch live on Sky Sports.
"They're the best two words in team sports, 'Game Seven,'" said Miami coach Erik Spoelstra.
"Our guys aren't looking for games that are less meaningful. We're looking for games that are more meaningful. And there's nothing bigger than a Game Seven."
As defending champions, Miami were overwhelming favorites to win the title; with LeBron James, the sport's biggest star, alongside Dwyane Wade and Chris Bosh, the Heat's 'Big Three' seemed a sure bet to win back-to-back championships.
But the Spurs, chasing their fifth championship since 1999, have answered the challenge with their own 'Big Three' of Tim Duncan, Tony Parker and Manu Ginobili.
As former champions, the three veterans know what it takes to win and have used all their streetwise knowledge to rattle the top-seeded Heat.
Of the 17 previous NBA Finals that have gone seven games, the visiting team has won just three times. The most recent was 35 years ago when the Washington Bullets upset the SuperSonics in Seattle.
"I don't really care what it's been like for anybody else at any time," San Antonio coach Gregg Popovich said.
"All I know is we have had a hell of a year, and we have an opportunity to win a championship tomorrow night. That's all that matters."