NBA Finals: LeBron James talks legacy ahead of Miami Heat's title decider with Spurs
LeBron James says the Miami Heat will go down as "one of the greatest" teams if they win Game Seven against the Spurs.
Last Updated: 20/06/13 10:56am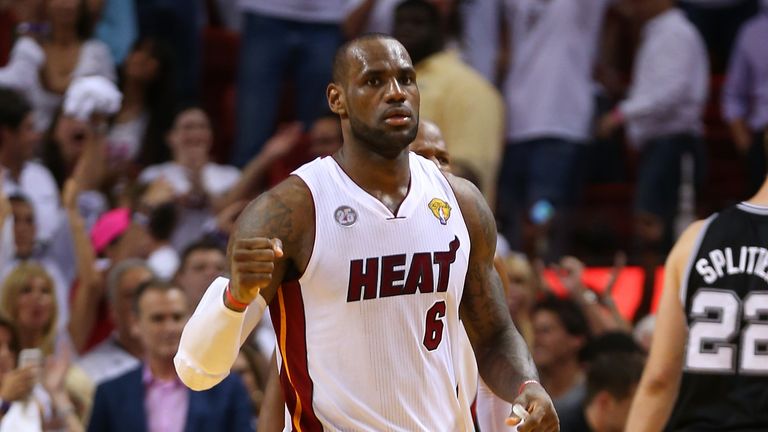 After the Heat tied the series at 3-3 in an astonishing Game Six, the destination of the title will now be decided by a single contest at AmericanAirlines Arena in Miami.
The odds certainly seem stacked against the Spurs: a road team has not won a deciding game in the finals since the Washington Bullets in 1978, since when there have been five seventh-game finales, all won by the hosts.
League MVP James comes into the contest on the back of a spectacular triple-double in the previous game and is determined to lead the Heat to their second straight title.
"I want to go down as one of the greatest. I want our team to go down as one of the greatest teams. And we have an opportunity to do that," James said.
"There haven't been many teams to win back-to-back championships. It's so hard. It's the hardest thing.
Hardest
"I said last year it was the hardest thing I've ever done, winning my first. Last year doesn't even come close to what we've gone through in this post-season and in these finals. So I'll be there (Thursday) night. I'm going to give it my all."
While the Heat are chasing a second straight title, San Antonio have the chance to crown a dynasty of five titles in 15 years.
Star forward Tim Duncan has been present for all four of the franchise's previous four championships and insists that the enormity of the occasion on Thursday night will not faze him.
Duncan said: "I prepare for every game exactly the same. That's why I feel every game is exactly the same. Obviously the pressure is there, the stage is there, the energy is there but preparation doesn't change."
In the opinion of many analysts, the Spurs will struggle to regroup just two days after such a heart-breaking defeat but Duncan, who scored 30 points and grabbed 17 rebounds in Game Six, says he will have no problem bouncing back.
"Some people use it the right way, some people are hurt by it but I don't feel I'm affected by it. I use it however I can, and love the environment."
NBA Finals live: San Antonio Spurs @ Miami Heat, Game Seven, 2am Friday morning, Sky Sports 1 HD.