NBA Draft 2013: Anthony Bennett named No 1 pick by Cleveland Cavaliers
The Cleveland Cavaliers have made Canadian Anthony Bennett the No 1 pick of the 2013 NBA draft.
Last Updated: 28/06/13 7:15am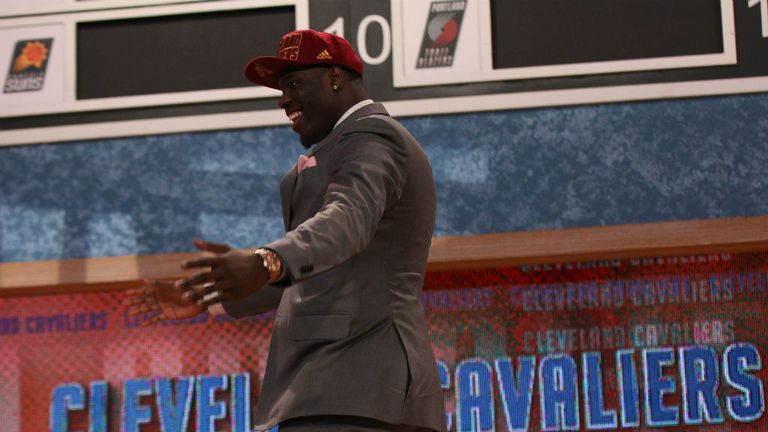 The 6ft 8in forward averaged 16.1 points and 8.1 rebounds for the University of Nevada last season - and he was chosen by the Cavaliers ahead of the highly-fancied Nerlens Noel and Alex Len.
The Cavs finished with a 24-58 record last season to earn the first pick.
"I'm just as surprised as everybody else," Bennett. "I heard everything was up for grabs. But I'm just real happy, glad that I have this opportunity, and I just got to thank God for everything.
"It's just crazy. Made history. It's just like a long-time dream that I had since I first started playing basketball."
The Orlando Magic opted for Indiana guard Victor Oladipo with the second overall pick while the Washington Wizards picked up forward Otto Porter from Georgetown University.
The Charlotte Bobcats selected giant Indiana centre Cody Zeller, who stands 7ft and weighs 240lbs, with the No 4 pick in the draft.
Ukrainian Len was eventually picked up by the Phoenix Suns after the 7ft 1in centre averaged 11.9 points and 7.8 rebounds last season at Maryland.
The New Orleans Pelicans eventually claimed Noel with the sixth pick, the Sacramento Kings selected Kansas shooting guard Ben McLemore, the Detroit Pistons picked Kentavious Caldwell-Pope and the Minnesota Timberwolves have selected Michigan point guard Trey Burke.
The 10th pick saw the Portland Trail Blazers snap up 6ft 4in guard CJ McCollum from Lehigh.
NBA Draft 2013: 1 Cleveland Cavaliers - Anthony Bennett, forward, University of Nevada, Las Vegas; 2 Orlando Magic - Victor Oladipo, guard, Indiana; 3 Washington Wizards - Otto Porter, forward, Georgetown; 4 Charlotte Hornets - Cody Zeller, center, Indiana; 5 Phoenix Suns - Alex Len, center, Maryland; 6 New Orleans Pelicans - Nerlens Noel, center, Kentucky; 7 Sacramento Kings - Ben McLemore, guard, Kansas; 8 Detroit Pistons - Kentavious Caldwell-Pope, guard, Georgia; 9 Minnesota Timberwolves - Trey Burke, guard, Michigan; 10 Portland Trailblazers - C.J. McCollum, guard, Lehigh; 11 Philadelphia 76ers - Michael Carter-Williams, guard, Syracuse; 12 Oklahoma City Thunder (from Toronto via Houston) - Steven Adams, center, Pittsburgh; 13 Dallas Mavericks - Kelly Olnyk, center, Gonzaga; 14 Utah Jazz - Shabazz Muhammad, guard, UCLA; 15 Milwaukee Bucks - Giannis Antetokounmpo, forward, Filathlitikos AO (Greece); 16 Boston Celtics - Lucas Nogueira, center, Estudiantes (Spain); 17 Atlanta Hawks - Dennis Schroeder, guard, Phantoms Braunschweig (Germany); 18 Atlanta (from Houston via Brooklyn) - Shane Larkin, guard, Miami; 19 Cleveland (from LA Lakers)- Sergey Karasev, guard, BC Triumph Lyubertsy (Russia); 20 Chicago Bulls - Tony Snell, guard, New Mexico; 21 Utah (from Golden State via Brooklyn)- Gorgui Dieng, center, Louisville; 22 Brooklyn Nets - Mason Plumlee, forward, Duke; 23 Indiana Pacers - Solomon Hill, forward, Arizona; 24 New York Knicks - Tim Hardaway, Jr., guard, Michigan; 25 Los Angeles Clippers - Reggie Bullock, guard, North Carolina; 26 Minnesota - Andre Roberson, forward, Colorado; 27 Denver Nuggets - Rudy Gobert, forward, Cholet Basket (France); 28 San Antonio Spurs - Livio Jean-Charles, forward, Asvel Lyon-Villeurbanne (France); 29 Oklahoma City Thunder - Archie Goodwin, guard, Kentucky; 30 Phoenix (from Miami, via LA Lakers and Cleveland)- Nemanja Nedovic, guard, Lietuvos Rytas (Lithuania).