BBL: Cheshire Phoenix opened their account with victory over Manchester Giants
Cheshire Phoenix finally opened their victory count in the BBL, outclassing Manchester Giants 83-71.
Last Updated: 06/10/13 10:29pm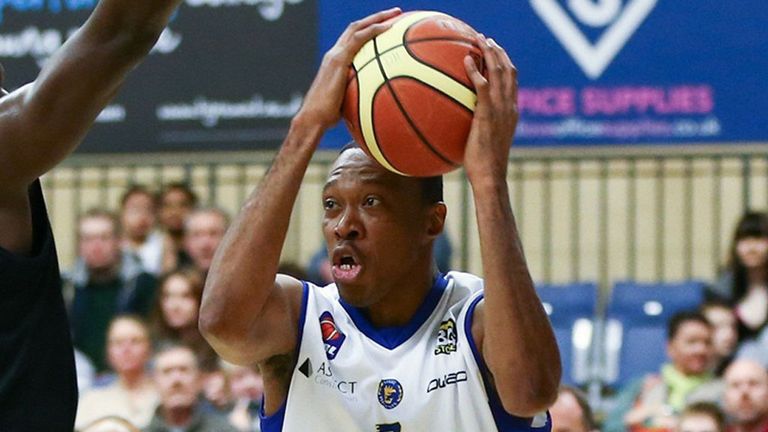 The visitors had a 18-16 lead as the first quarter was winding to a close, but Phoenix won a two-minute stretch 12-4 and finished the period with a 28-22 advantage.
The breaking point of the game came in the second quarter, which the Cheshire side started by going on a 7-0 run to go up by double digits at 35-22.
However, it wasn't the end of Giants' troubles, as Phoenix finished the period just as well as they started - a pair of three-pointers by Reggie Middleton and Dominique Coleman put the hosts up by 17 points at the half.
Although Giants did show some signs of life and cut the deficit to single digits in the fourth quarter (67-76), the run was ended by a pair of baskets by Middleton, who finished the night with a game-high 21 points, in addition to eight assists and seven rebounds.
Yannick Crowder contributed to the victory with a massive double-double of 15 points and 15 boards, while Coleman added 14 points.
Despite a great 19-point effort from Stefan Hill, Giants did not manage to put up a fight on the road, finishing with zero fast break points.
David Aliu and Rob Marsden collected 12 points each, with the latter also adding 10 rebounds.
In other Sunday action Glasgow Rocks finally kicked off their season by recording a 100-63 victory against Surrey United in front of the home crowd in Emirates Arena.
Spurred on by a 34-point outburst in the first quarter, the Glasgow club made easy work of the visitors from Surrey, taking an easy 100-63 victory.
The hosts established an early double-digit lead after Marks scored 10 of his 20 points in the first five minutes of the game, which resulted in an early 14-3 run and put Rocks well clear of their opponents.
Despite scoring 22 points in the first quarter, United could not find any solutions to Rocks' inside production and were trailing by 14 points after the first 10 minutes of play.
The home side scored 62 points in the paint, converting field goals at a magnificent 56% rate, while Surrey only made 36% of their shots from the field.
Chez Marks had a game-high 20 points and also added six rebounds for Rocks, Daniel Northern scored 18 points, while Fran Urli added 17 points, eight rebounds and five assists.
Elvisi Dusha was the key player for Surrey with 15 points, seven assists and five rebounds, as his teammate Andy Tomayo also finished with 15 points.
Plymouth University Raiders needed to work overtime to get their first victory of the season, defeating Esh Group Eagles Newcastle 89-87 after an extra period at home in Plymouth.
Charles Smith collected 18 points and eight rebounds, while Martin Scott chipped in with an impressive double-double of 16 points and 16 rebounds, but finished the game on the bench after fouling out.