NBA: Kevin Durant the star as Oklahoma edge out Philadelphia in Manchester
Oklahoma City Thunder edge out Philadelphia 76ers 103-99 in a NBA pre-season game in Manchester.
Last Updated: 09/10/13 12:23am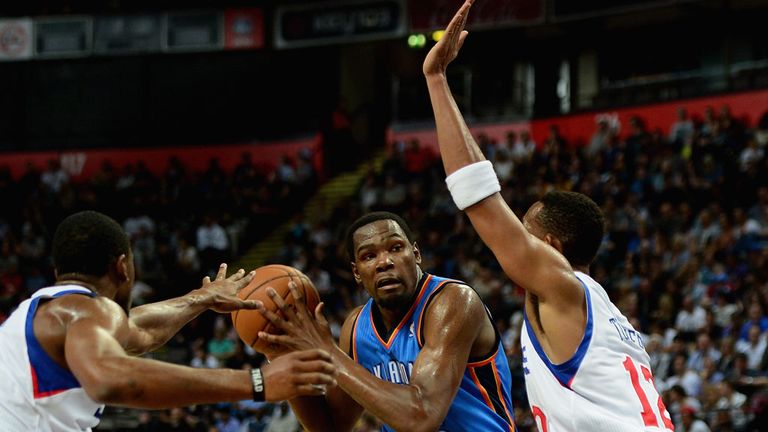 The United States forward - an Olympic gold winner in London last year - collected 21 points, 12 assists and eight rebounds while Reggie Jackson led all scorers with 29 and the outstanding Serge Ibaka added 18.
Manchester's footballing stars were out in force at the Phones 4U Arena, with Rio Ferdinand, David de Gea, Adnan Januzaj, Jack Rodwell and Patrick Vieira among those courtside.
The match did not have the same intensity as a regular season game, but there was plenty to savour.
Durant was slow to get going, but he joined in the party with a big dunk late in the second quarter. Up until then, Spain star Ibaka and his incredible athleticism had kept Thunder ahead of the 76ers.
The 76ers would not be shaken off and never trailed by more than six in the first half, and they took the lead on a long ball from Tony Wroten before half-time.
A big throw down from Jackson had the crowd on their feet again at the start of the third quarter as the Thunder began to edge clear, leading 76-65 when Jeremy Lamb scored with a two-handed dunk with three minutes to go in the period.
It was in the third period that Durant started showing what he can do. Having chipped in with just seven points in the opening half, he scored 14 in the third quarter alone.
Although a Wroten three tied it at 85-85 midway through the fourth quarter, the Thunder once again moved through the gears to put them away with eight unanswered points.
Philadelphia kept scrapping to keep it close to the finish, but the Thunder kept finding an answer to hold them at arm's length.
Oklahoma City's eventual victory was little surprise, with this Thunder team built around to Durant with the aim of contending for honours while the 76ers, under new coach Brett Brown, are entering what promises to be a lengthy rebuilding process.
Wroten finished with 20 points for Philadelphia, with Evan Turner adding 19.
While this game may have just been a pre-season warm-up, the NBA will return to the UK in January for a regular-season game, continuing a commitment the league made to help the sport grow in this country ahead of the 2012 Olympics.
That contest will be between the Atlanta Hawks and Brooklyn Nets, who include Great Britain coach Joe Prunty among their staff.
Durant believes the experiment in the UK should be expanded. He said: "I just love basketball and any time I have the chance to compete I go for it. Tonight it was pretty fun to play in front of that crowd.
"The fans were unbelievable and they deserve to have some more basketball, and regular-season basketball too, over here and I'm sure you'll see them expand that in the future. Hopefully we'll be one of those teams that comes over because I've enjoyed it.
Thunder coach Scott Brooks said: "I thought the crowd were really good, very energetic, and they were excited to see NBA players. When I walked into the building they gave a great cheer. I thought they were cheering for me until I looked behind and saw I happened to be with KD (Durant)."