NBA: Kevin Durant hoping to for more NBA games in Britain
Kevin Durant wants to play in Britain again after guiding the Oklahoma City Thunder to victory in Manchester.
Last Updated: 09/10/13 6:15am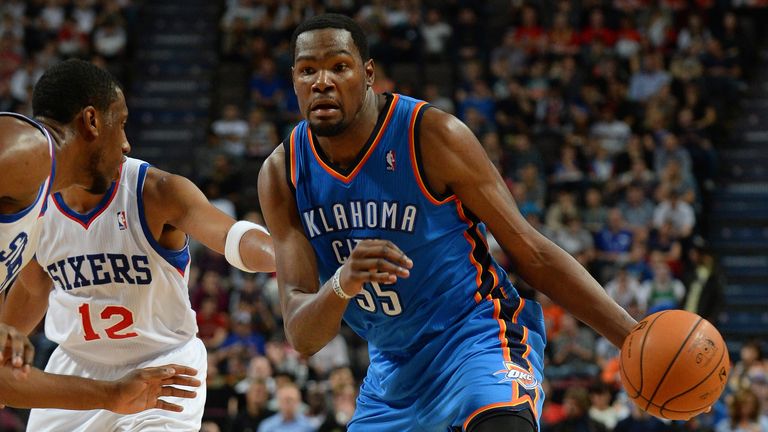 Durant collected 21 points, 12 assists and eight rebounds in Manchester on Tuesday, making it 10 wins out of 10 for the Thunder forward in this country.
The other nine all came last summer in a United States jersey as Durant helped his team to gold in the 2012 Olympics, beating Great Britain in a Manchester friendly before enjoying a perfect record through eight games in London.
With the NBA continuing to bring top-level basketball over the Atlantic - they will return for a regular-season game between Brooklyn and Atlanta in London in January - Durant hopes to be clocking up more air miles in the future.
"The fans were unbelievable and they deserve to have some more basketball, and regular-season basketball too, over here, and I'm sure you'll see (the NBA) expand that in the future," he said.
"Hopefully we'll be one of those teams that comes over because I've enjoyed it."
Aggressive
Durant was slow to get going in the game, scoring only seven points in the first half before pouring in 14 in the third quarter.
He was then able to take a breather as his team-mates finished Philadelphia off, with Reggie Jackson scoring 29 points and Serge Ibaka 18.
"I was just trying to be aggressive," Durant said. "There were some good shots I missed early and some good shots my team-mates missed early but we just stuck with it and in the third quarter it came together.
"I just love basketball and any time I have the chance to compete I go for it. Tonight it was pretty fun to play in front of that crowd."