NBA: Miami Heat drop to 1-2 after narrow defeat by Brooklyn Nets
The Miami Heat's poor start to the season continued when they went down 101-100 to the Nets in Brooklyn.
Last Updated: 02/11/13 7:09am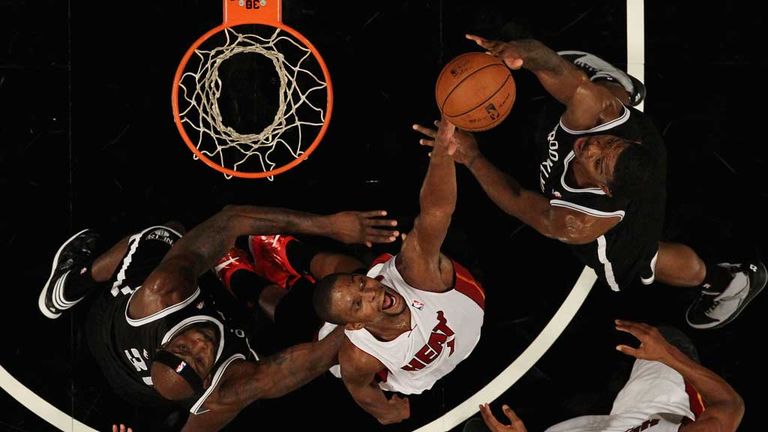 The reigning NBA champions dropped successive games for the first time since January at the Barclays Center, where Paul Pierce and Joe Johnson hit key late free-throws to deny Miami's rally.
Brooklyn broke away in the third period, taking it 31-20 to lead by 11, and they maintained that advantage until a frantic last couple of minutes.
But just as a partisan crowd was ready to celebrate an easy victory, the Heat ran off 10 straight points, consecutive threes from Dwyane Wade and Mario Chalmers bringing them right back into the game.
Leading 99-98 with 4.7 seconds to go, Johnson made his two free-throws, but Brooklyn fouled Chris Bosh to keep the game alive.
However the Miami forward, apparently trying to miss his second chance to allow them a rebound, made his second shot and time elapsed with the Heat still one point behind.
Philadelphia, who beat Miami in their first game of the season, moved to 2-0 with a 119-112 win in Washington, Thaddeus Young scoring 29 points for the 76ers.
There was a big surprise in Minneapolis where the Minnesota Timberwolves routed the Oklahoma City Thunder 100-81, holding superstar Kevin Durant to only 13 points in the process - Kevin Love had 24 for the hosts.
Arron Afflalo hit four three-pointers in a 30-point haul for the Orlando Magic in their 110-90 win over the New Orleans Pelicans and Kemba Walker scored 23 for Charlotte as they held off Cleveland 90-84.
Chris Paul and Blake Griffin starred for the Los Angeles Clippers, who threw away a 15-point lead before beating storming clear again to beat Sacramento 110-101.
And there was a massive rally in Boston where the Celtics gave up a 22-point lead in the third period before going down 105-98 to the Milwaukee Bucks, Zaza Pachulia scoring 20 points.
Elsewhere, Atlanta beat Toronto 102-95, Houston saw off Dallas 113-105, Portland crushed Denver 113-98, San Antonio beat the Los Angeles Lakers 91-85 and Memphis beat Detroit 111-108 in overtime.