NBA: Indiana Pacers equal franchise record with sixth successive win
The Indiana Pacers have matched the best start in franchise history after a 91-84 victory over the Toronto Raptors.
Last Updated: 09/11/13 7:27am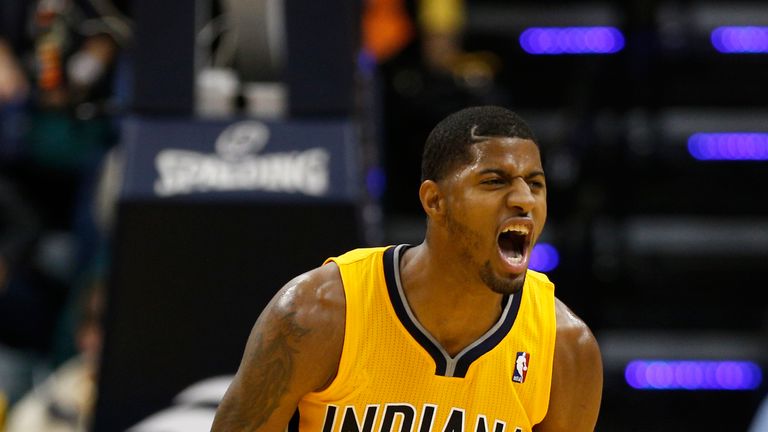 Paul George scored 17 of his 23 points in the third quarter while Roy Hibbert added 20 for the NBA's last unbeaten team.
Patrick Ewing's head coaching debut ended in a 101-91 defeat to the team he starred with for 15 seasons as his Charlotte Bobcats lost to the New York Knicks, who got 28 points and eight rebounds from Carmelo Anthony.
Kevin Durant stuffed the stat sheet in typical fashion as he amassed 37 points, eight rebounds and seven assists to propel the Oklahoma City Thunder to a 119-110 victory over the Detroit Pistons, with Russell Westbrook adding 20 points.
The Morris twins teamed up for the Phoenix Suns as they erased an 11-point deficit in the second half to beat the Denver Nuggets 114-103.
Markieff scored 14 of his career-high 28 points in the fourth quarter while brother Marcus finished with 11 points with eight rebounds.
Improve
The unfancied Philadelphia 76ers enjoyed a strong start to the season and got back to winning ways, snapping a two-game losing streak by beating the Cleveland Cavaliers 94-79 to improve to 4-2. Evan Turner had 22 points and 10 rebounds while Tony Wroten added 18.
The Boston Celtics made it two wins in a row as they hung on to edge the Orlando Magic 91-89 behind 16 points from Brandon Bass, who iced the game from the free throw line.
Anthony Davis went off for a career-high 32 points with 12 rebounds and six blocks as the New Orleans Pelicans beat the Los Angeles Lakers 96-85, while Kevin Love's 32 points, 15 rebounds and eight assists led the Minnesota Timberwolves to a 116-108 victory over the Dallas Mavericks.
The Washington Wizards needed overtime to beat the Brooklyn Nets 112-108, eventually doing so with the help of Nene, who scored 12 of his 20 points in the final four minutes.
Luol Deng had 19 points to lead the Chicago Bulls to a 97-73 victory over the Utah Jazz, while Tony Parker had 18 points in a 76-74 victory for the San Antonio Spurs over the Golden State Warriors.
Damian Lillard had 22 points as the Portland Trail Blazers enjoyed a 104-91 victory over the Sacramento Kings, who have now lost four in a row.