NBA: Portland Trail Blazers and San Antonio Spurs both extend winning streaks to nine
Joel Freeland got the better of GB team-mate Luol Deng as Portland Trail Blazers saw off Chicago Bulls 98-95.
Last Updated: 23/11/13 11:28am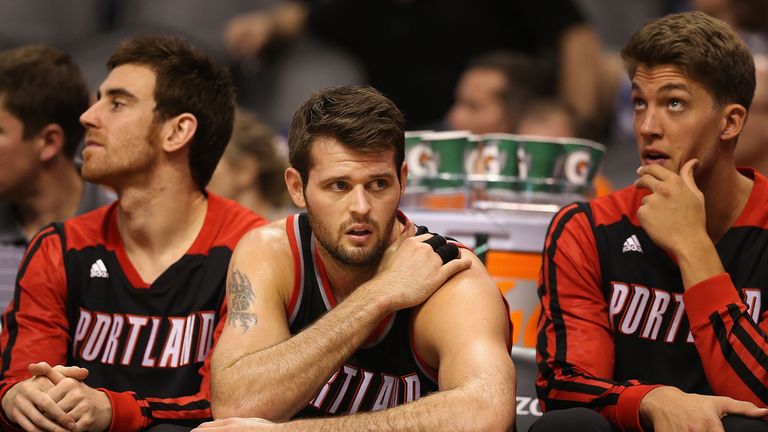 Deng's Great Britain team-mate Joel Freeland saw 14 minutes of action off the bench for the Trail Blazers, whose win was their ninth in a row.
Portland's Wesley Matthews led all scorers with 28 points, while the Bulls lost Derrick Rose to a knee injury in the third quarter after he had scored 20 points.
Tony Parker scored 20 points as San Antonio Spurs also stretched their winning run to nine matches by beating the Memphis Grizzlies 102-86.
Tiago Splitter added 17 points for the Spurs while Manu Ginobili contributed 15 from the bench.
Mike Conley scored 28 points to pace the Grizzlies, who saw Marc Gasol depart with a knee injury in the second quarter.
Setting the Pace
Paul George poured in 27 points to lead an Indiana rally as the Pacers beat the Boston Celtics 97-82.
George scored 22 of his points in the second half, helping the Pacers erase an eight-point half-time deficit and inflict a sixth straight loss on the Celtics.
Kevin Love had 17 points and 16 rebounds to lift the Minnesota Timberwolves to a 111-81 victory over the Brooklyn Nets.
John Wall's 37 points were in vain for the Washington Wizards as they fell 96-88 to the Toronto Raptors.
The Philadelphia 76ers beat the Milwaukee Bucks 115-107 in overtime, the New Orleans Pelicans saw off the Cleveland Cavaliers 104-100 and the Atlanta Hawks were 96-89 winners over the Detroit Pistons.
There were also wins for the Phoenix Suns, the Dallas Mavericks and the Los Angeles Lakers.