NBA round-up: Portland Trail Blazers make it 10 wins in a row
LaMarcus Aldridge's big day saw the Portland Trail Blazers beat Golden State Warriors for their 10th win in a row.
Last Updated: 24/11/13 7:40am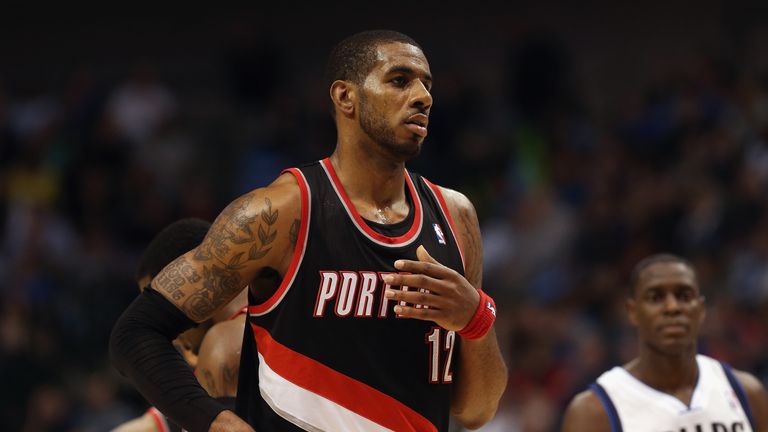 Aldridge had 30 points and 21 rebounds, while Wesley Matthews added 23 points and Damian Lillard 20.
Klay Thompson led the Warriors with 30 points, with Stephen Curry adding 22 points and 11 assists.
The San Antonio Spurs kept pace with Portland as Danny Green's 17 points led them to their 10th straight win, 126-96 over the Cleveland Cavaliers.
Green was one of five San Antonio players in double figures, with Patty Mills adding 15 from the bench.
Wade return
Dwayne Wade returned from injury with 27 points to lead the Miami Heat to a 101-99 win over the Orlando Magic.
Wade, who missed two games because of his knee problems, received support from LeBron James, who scored 22 points, and Chris Bosh (15) as the Heat stretched their winning run to six matches.
Chris Paul had 22 points - including a free throw which put his side ahead with 2.5 seconds remaining - in the Los Angeles Clippers' 103-102 win over the Sacramento Kings.
Paul also added nine assists, which put him one dish off stretching his record run of double-doubles in the categories to 14.
Aaron Brooks poured in 26 points to lift the Houston Rockets to a 112-101 win over the Minnesota Timberwolves.
Roy Hibbert had a double-double of 27 points and 13 rebounds to help the Indiana Pacers overcome the Philadelphia 76ers 106-98.
The Boston Celtics beat the Atlanta Hawks 94-87 and the Washinton Wizards were 98-89 winners over the New York Knicks, while there were also wins for the Denver Nuggets and the Charlotte Bobcats.