NBA: Chicago Bulls guard Derrick Rose requires surgery after tear in his right knee
Chicago Bulls guard Derrick Rose faces an indefinite spell on the sidelines after suffering a tear in his right knee.
Last Updated: 24/11/13 9:44pm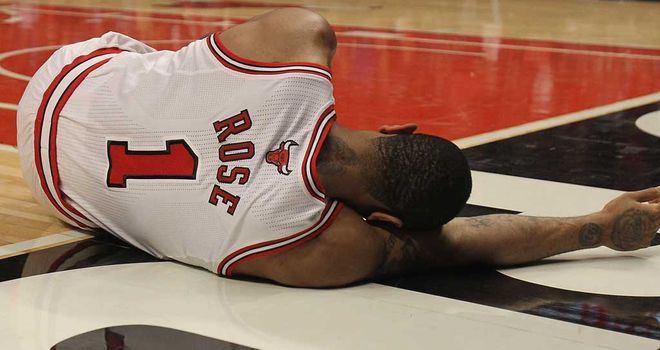 The former league's most valuable player suffered the injury during the game against the Portland Trail Blazers on Friday.
He underwent tests in Los Angeles the following day, which confirmed the tear.
"Subsequent examinations and an MRI confirmed a medial meniscus tear to his right knee, which will require surgery," the Bulls (6-5) said in a statement on the Chicago Bulls website.
"Rose is out indefinitely, and will not accompany the team on the rest of its current road trip."
Rose started 10 of the team's 11 games this season, averaging 15.9 points and 4.3 assists.
"It's a huge loss," guard Kirk Hinrich told the Chicago Tribune. "Everything we do is built around him. Losing one of the best players in the league obviously changes the landscape of things. I just feel bad for him personally."
The 25-year-old missed all of last season while recovering from a ligament tear in his left knee during the 2012 playoffs.