NBA: The Indiana Pacers move to 13-1 for the season
The Indiana Pacers extended their lead in the Eastern Conference with victory over the Minnesota Timberwolves.
Last Updated: 26/11/13 6:04am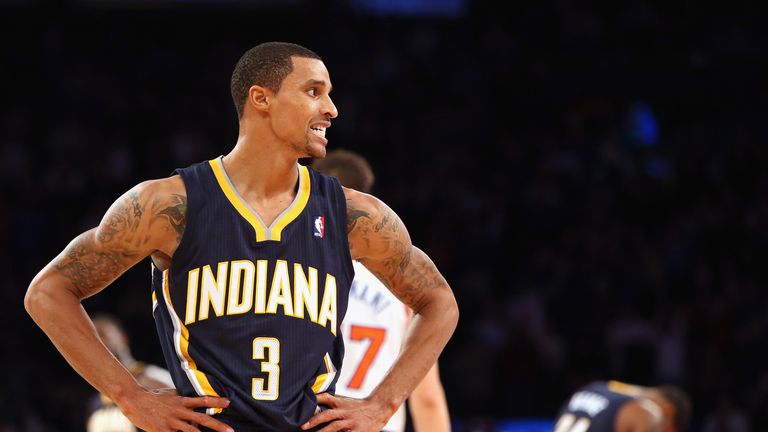 George Hill had a season-high 26 points as the Pacers (13-1) made it four wins in a row since their sole reverse, a loss to Chicago.
The Miami Heat (11-3) are doing their best to catch up as they beat the Phoenix Suns 107-92 to make it seven wins in a row.
LeBron James weighed in 35 points while Dwyane Wade added 21 with 12 assists.
If Miami's run seems impressive, the team they beat in last season's NBA Finals are doing even better as the San Antonio Spurs beat the New Orleans Pelicans 112-93 for an 11th straight success.
Manu Ginobili had 16 points to lead seven Spurs in double figures, overwhelming a Pelicans team who lost for the first time in four outings.
The Houston Rockets improved to 10-5 with a 93-86 win over the Memphis Grizzlies as Chandler Parsons scored 17 points.
Knee injury
LaMarcus Aldridge collected his seventh double-double of the season as the Portland Trail Blazers beat the New York Knicks 102-91 for their 11th straight win. Aldridge had 18 points and 14 rebounds, with Nicolas Batum scoring 23.
New York lost for the sixth straight time despite 34 points and 15 rebounds from Carmelo Anthony.
Hours after they lost Derrick Rose for the season to another knee injury, the Chicago Bulls lost 89-83 to the Utah Jazz in overtime.
The Boston Celtics continue to develop a new identity under coach Brad Stevens, and took another step with a 96-86 win over the Charlotte Bobcats, their sixth win of the season. Jordan Crawford had 21 points while Gerald Wallace brought 17 off the bench.
Ty Lawson had 19 points to lead Denver to a 110-96 win over the Dallas Mavericks, with the Nuggets scoring 11 unanswered in the fourth quarter to pull away.
Brandon Jennings hit four three-pointers in a row to help the Detroit Pistons take a decisive early lead in a 113-94 victory over the Milwaukee Bucks. The Pistons went up 38-18 and were ahead by 34 at one point in the third period.