NBA: Indiana Pacers continue impress start to move to 16-1
The in-form Indiana Pacers downed the Los Angeles Clippers 105-100 for a seventh straight win.
Last Updated: 02/12/13 8:37am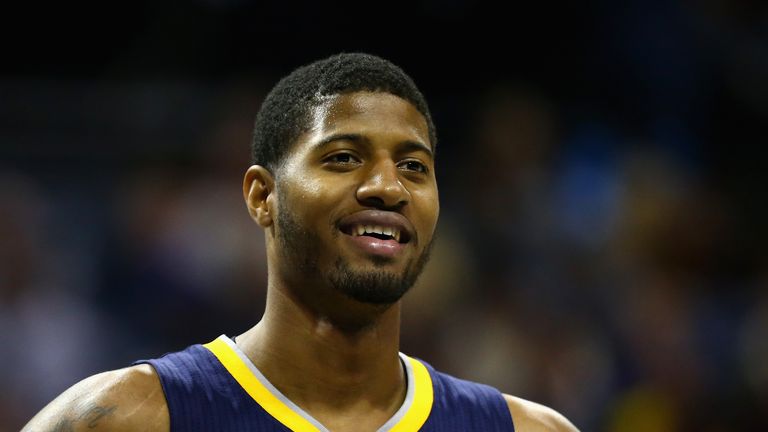 Paul George scored 27 points and David West added 24 with 12 rebounds as they improved the best start to an NBA season in franchise history to 16-1 by knocking off the defending Pacific Division champions.
Chris Bosh led a furious late rally as the Miami Heat came back to beat the Charlotte Bobcats 99-98.
LeBron James scored 26 points and Bosh finished on 22 - including a run of 13 successive points - as Miami won a 10th straight game.
Kevin Durant's first triple-double of the season lifted the Oklahoma City Thunder to a 113-103 victory over the Minnesota Timberwolves.
Durant came up with 32 points, 10 rebounds and 12 assists as Oklahoma City won their seventh game in a row.
Reeling
Ryan Anderson scored 31 points as the New Orleans Pelicans beat the New York Knicks.
The Pelicans were reeling from the news that Anthony Davis is out with a broken hand, but they were steadied by a barrage of threes from Anderson and 24 points from Tyreke Evans, condemning New York to a ninth straight loss.
Stephen Curry came through in the clutch for the Golden State Warriors, lifting them to a 115-113 win over the Sacramento Kings.
Curry scored 12 of his 36 points in the fourth quarter and hit the key free throws with eight seconds left.
Andre Drummond collected 31 points and 19 rebounds to as the Detroit Pistons beat the Philadelphia 76ers 115-100 while Nate Robinson's 23 points helped the Denver Nuggets top the Toronto Raptors 112-98.
LaMarcus Aldridge had 27 points as the Portland Trail Blazers hung on for a 114-108 win over the Los Angeles Lakers.
The Blazers had led by 20 but were made to fight for what was their 12th win in 13 games.