NBA: San Antonio Spurs beat Dallas Mavericks to return to winning ways
The San Antonio Spurs bounced back from their defeat to Houston with a 116-107 victory over the Dallas Mavericks.
Last Updated: 27/12/13 10:28am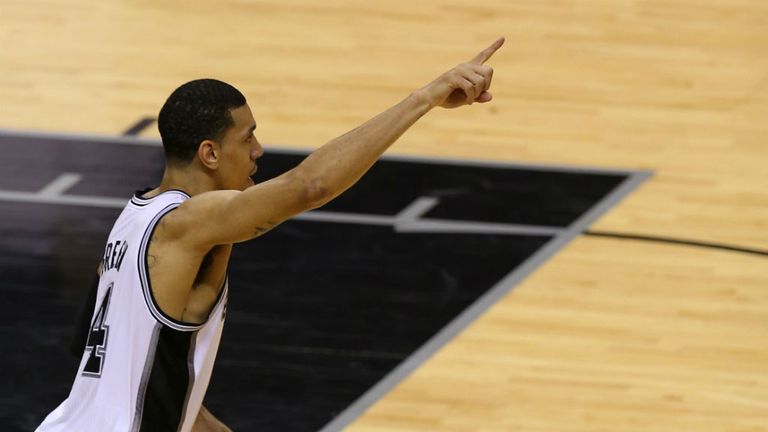 Guard Danny Green, who was recently dropped from the starting line-up, played a key role with a perfect shooting outing on his way to 22 points.
The Spurs (23-7) were extending their winning streak against their Southwest Division rivals to six matches as they inflicted a third defeat in four games on the Mavericks.
Spurs forward Tim Duncan had 21 points and 13 rebounds, while guard Tony Parker scored 23.
Dallas forward Dirk Nowitzki scored 25 points, guard Monta Ellis added 23, and center DeJuan Blair had 14 points and 11 rebounds against his old team.
Meanwhile, point guard Jeremy Lin sparked a comeback with 14 fourth-quarter points, and shooting guard James Harden finished with 27 points as the Houston Rockets erased a 13-point deficit to beat the Memphis Grizzlies 100-92.
Free throws
Harden shot just two-for-nine from the floor but made 22-of-25 free throws for Houston (20-11), while Lin scored 18 points and forward Chandler Parsons added 15 points and 11 rebounds.
Grizzlies (12-16) forward Zach Randolph combined 23 points with 17 rebounds and five assists.
Atlanta Hawks guard Jeff Teague sank a 20-foot jumper at the double-overtime buzzer to give his side a 127-125 win over the Cleveland Cavaliers.
The Portland Trail Blazers also required overtime to defeat the Los Angeles Clippers 116-112.
Guard Wesley Matthews hit four consecutive free throws over the final 1:05 of overtime, while forward LaMarcus Aldridge scored 32 points and grabbed 10 rebounds for the Trail Blazers, who own the NBA's best record at 24-5.
Portland also overcame a spectacular performance by Los Angeles (20-11) guard Chris Paul, who went for 34 points, 16 assists and six steals.