NBA: Miami Heat back to winning ways after seeing off Portland Trail Blazers
Chris Bosh poured in a season-best 37 points as the Miami Heat edged the Portland Trail Blazers 108-107.
Last Updated: 29/12/13 9:52am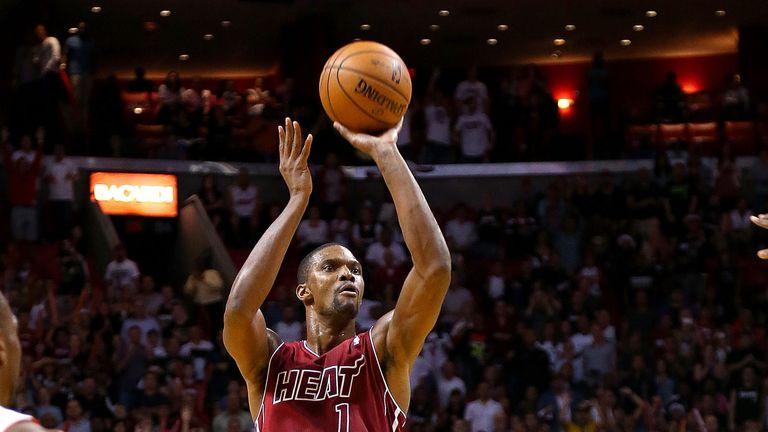 Bosh, taking the starring role in the injury-enforced absence of LeBron James, downed the go-ahead three-pointer with 0.5 seconds left to get the Heat back to winning ways after Friday's loss against the Sacramento Kings.
Paul George contributed 24 points and Lance Stephenson 23 as the Eastern Conference-leading Indiana Pacers, spurred by a 28-20 third quarter, saw off the Brooklyn Nets 105-91.
Washington halted a three-game home skid with an emphatic 106-82 triumph over the Detroit Pistons, John Wall finishing with 20 points and 11 assists for the Wizards.
The Denver Nuggets slumped to their sixth consecutive loss, going down 120-99 in Memphis. Zach Randolph scored 20 points for the Grizzlies.
Third straight win
Dwight Howard finished with 24 points and 17 rebounds as the Houston Rockets rallied for their third straight victory - 107-98 over the New Orleans Pelicans.
The Atlanta Hawks rallied from a 14-point third-quarter deficit to secure a 118-116 overtime triumph over the Charlotte Bobcats, Paul Millsap scoring 31 points and Lou Williams coming off the bench to net 10 of his season-best 28 points in overtime.
Jeff Green and Jordan Crawford poured in 19 points apiece as the Boston Celtics snapped a three-game losing streak with a narrow 103-100 success against Cleveland, Kyrie Irving finishing on the losing side despite scoring 32 points for the Cavaliers.
A season-high 32-point haul from Kyle Lowry lifted the Toronto Raptors to a 115-100 win over the New York Knicks and Kevin Love's sixth consecutive double-double - 33 points and 15 rebounds - propelled the Minnesota Timberwolves to a 117-95 win against the Milwaukee Bucks.
Finally, the Phoenix Suns overcame the Philadelphia 76ers 105-101 - thanks in part to Miles Plumlee's career-best 22 points - Monta Ellis' 22 points helped the Dallas Mavericks topple the Chicago Bulls 105-83, and Blake Griffin had 40 points and 10 rebounds as the Los Angeles Clippers defeated the Utah Jazz 98-90.