NBA: Indiana Pacers win fourth straight after beating Los Angeles Clippers
Indiana Pacers bagged their fourth consecutive victory on Saturday with a 106-92 success over Los Angeles Clippers.
Last Updated: 19/01/14 7:50am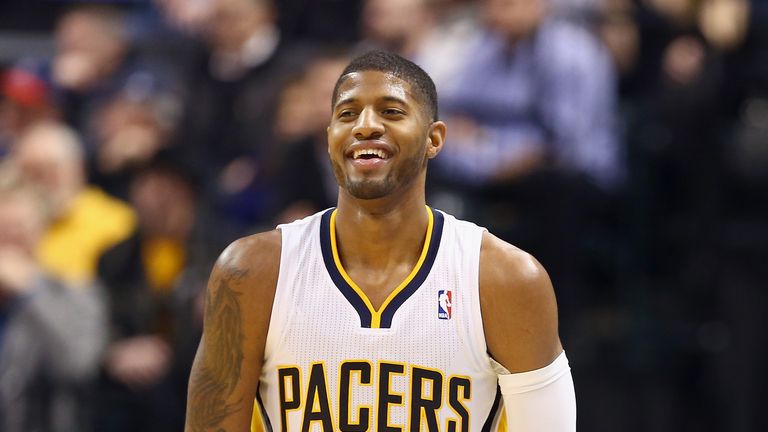 George led the way with 36 points, while Stephenson's all-round contribution was arguably more important, with 22 points, 12 rebounds and seven assists in Saturday's success.
The Eastern Conference leaders are now 21-1 at home as they brought the Clippers' five-match winning run to an end.
LaMarcus Aldridge came to the fore for the Portland Trail Blazers, who brushed aside Dallas Mavericks 127-111.
Aldridge secured his 24th double-double of the season to underline his importance to the Western Conference leaders after contributing 30 points and 12 rebounds.
Woeful record
Charlotte Bobcats' woeful record against the Miami Heat continued after they suffered a 104-96 overtime defeat.
LeBron James poured in 34 points, including six in overtime, and eight rebounds although the Heat were made to work hard for their 15th consecutive win over the Bobcats.
New Orleans Pelicans crashed to their eighth successive defeat as Golden State Warriors earned a 97-87 victory, with Stephen Curry leading the way with 28 points.
Josh Smith scored 22 points and Rodney Stuckey added 20 as Detroit Pistons claimed a 104-98 win over Washington Wizards, whose three-game winning run came to an end, while 21 points and 16 rebounds from Joakim Noah helped Chicago Bulls thrash Philadelphia 76ers 103-78.
A career-high 36 points from Terrence Jones ensured Houston Rockets beat Milwaukee Bucks 114-104 and Utah Jazz crashed to a woeful 98-72 loss against Minnesota Timberwolves.