NBA: Taj Gibson helps Chicago Bulls to last-gasp win over Lakers
Taj Gibson made a lay-up shot on the buzzer to give Chicago Bulls a 102-100 overtime win over Los Angeles Lakers.
Last Updated: 21/01/14 8:00pm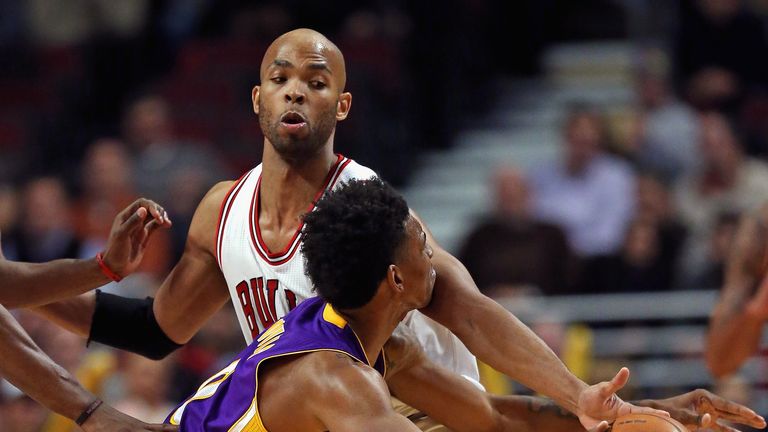 The Lakers led by three points going into the final quarter but the home side tied the game up with the help of a 27-point night from D.J. Augustin and claimed the game in the extra session.
Indiana Pacers maintained their 13-game lead over the Bulls in the Central Division with a 102-94 win over the Golden State Warriors. Paul George scored 23 points for the Pacers who won their fifth straight.
Defending champions Miami Heat suffered a shock as they were beaten 121-114 by Southeast Division rivals the Atlanta Hawks. Paul Millsap had 26 points for the Hawks while LeBron James put up 30 for the Heat.
Washington Wizards were 107-99 winners over Philadelphia 76ers while another team in the Southeast, Charlotte Bobcats, upset the Atlantic Division leading Toronto Raptors 100-95.
Ramon Sessions poured in 23 points for the Bobcats who improved their record on the season to 18-25.
In a battle of the Big Apple the Brooklyn Nets came out 103-80 winners over New York Knicks.
Big lead
The Nets opened up an 11 point lead at the end of the first quarter and never looked like surrendering it with Joe Johnson leading their scoring with 25 points.
Dallas Mavericks won a tight game as they overcame the Cleveland Cavaliers 102-97.
Dallas led 59-37 at half-time at half-time and despite being heavily outscored in the final two quarters they managed to hold on for the win.
The Pacific Division leading Los Angeles Clippers continued their recent run of good form as they beat Detroit Pistons 112-103.
Jamal Crawford and Blake Griffin combined for 51 points for the California outfit who are three games clear of the Warriors.
In the night's other games, New Orleans Pelicans beat Memphis Grizzlies 95-92 and Houston Rockets beat Portland Trail Blazers 126-113.