NBA: Indiana Pacers suffers shock defeat to Phoenix Suns
Indiana Pacers suffered a shock defeat as they went down 124-100 against Phoenix Suns in Monday's NBA action.
Last Updated: 23/01/14 7:42am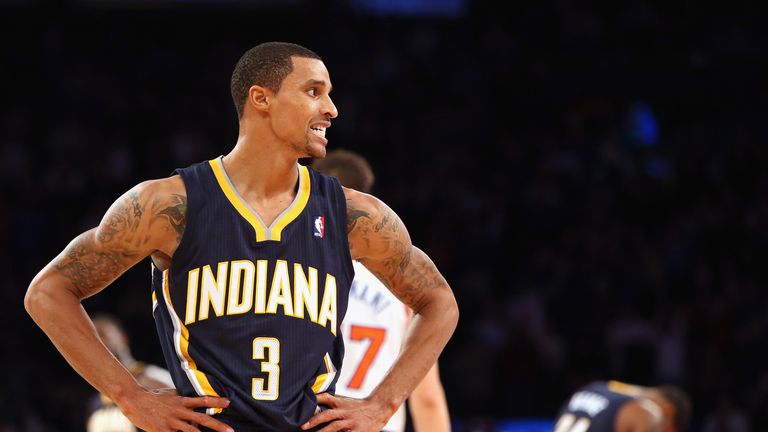 Gerald Green, Goran Dragic and Markieff Morris all scored upwards of 20 points for the Suns as the Pacers lost for the first time in six games.
The Pacific Division leading Los Angeles Clippers also slipped up as they lost 95-91 to Charlotte Bobcats.
Al Jefferson scored 24 points and grabbed 10 rebounds for the Bobcats, who have now won two straight games.
DeMar DeRozan poured in a career-high 40 points to guide Toronto Raptors to a 93-85 victory over Dallas Mavericks.
Kevin Durant was the star again as he led Oklahoma City Thunder to a fifth consecutive win.
Spurs defeated
The 25-year-old scored 36 points as the Northwest Division leaders beat San Antonio Spurs 111-105.
Gerald Wallace's late lay-up sealed victory as Boston Celtics beat Washington Wizards 113-111 after overtime.
Jeff Green put up 39 points for the Celtics with Phil Pressey adding a further 20.
D.J. Augustin and Taj Gibson scored 53 points between them for Chicago Bulls in a 98-97 win over Cleveland Cavaliers while Atlanta Hawks won 112-109 against Orlando Magic.
Milwaukee Bucks claimed just their eighth win of the season as they overcame Detroit Pistons 104-101 with Caron Butler pouring in 30 points.
In Wednesday's other games, Houston Rockets beat Sacramento Kings 119-98 while Philadelphia 76ers were 110-106 victors over New York Knicks.