NBA: LeBron James inspires Miami Heat with 42-point haul
LeBron James scored a season-high 42 points as the Miami Heat beat the Dallas Mavericks 117-106.
Last Updated: 19/02/14 8:51am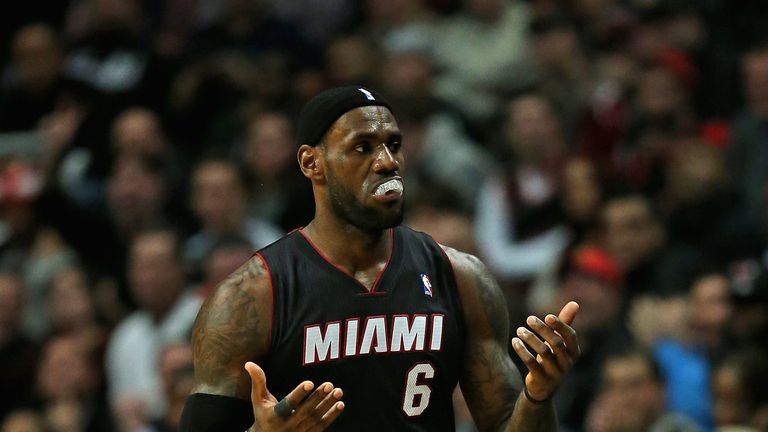 James poured in 12 points in the final quarter as the Heat pulled away in a game that saw the lead change hands 23 times.
Power forward Dirk Nowitzki posted 29 points, seven rebounds and seven assists for the Mavericks.
The Los Angeles Clippers lost at home for the first time this season as the Patty Mills-led San Antonio Spurs pulled off a 113-103 victory at the Staples Center.
Mills carried the Spurs towards an unlikely triumph with his run of 11 consecutive points at the start of the fourth quarterallowing him to finish with 25 for the match.
The New York Knicks let a five-point lead over the Grizzlies slip away in the last two minutes as Memphis rallied to clinch a 98-93 win.
Mike Conley returned from an ankle injury to score a team-high 22 points for the Grizzlies while Miller added a season-high 19 off the bench.
Good touch
There were seven players in double figures for the Cleveland Cavaliers who defeated the Philadelphia 76ers 114-85.
Tyler Zeller scored a season-high 18 points while Kyrie Irving made 14, Dion Waiters and Luol Deng netting 13 each. Tristan Thompson (12), Anthony Bennett and CJ Miles (both 10) were also in good touch.
Paul George led the Indiana Pacers with 28 points in a 108-98 victory over the Atlanta Hawks, who lost their sixth game in a row.
The Toronto Raptors improved to 3-0 against fellow Eastern Conference play-off contenders the Washington Wizards with a 103-93 win.
Kyle Lowry scored 14 of his 24 points in the third quarter while DeMar DeRozan, Amir Johnson and Greivis Vasquez each posted 14 for the Raptors.
Charlotte centre Al Jefferson made at least 30 points for the sixth game in nine as his 32-point haul helped the Bobcats edge the Detroit Pistons 108-96.
Elsewhere, Nate Wolters scored a late three-pointer to lift the Milwaukee Bucks to a 104-100 win over the Orlando Magic and Gerald Green scored a career-high 36 points in the Phoenix Suns' 112-107 overtime victory against the Denver Nuggets.