NBA: Birthday boy Chris Bosh and LeBron James guide Miami Heat to victory
Last Updated: 25/03/14 7:58am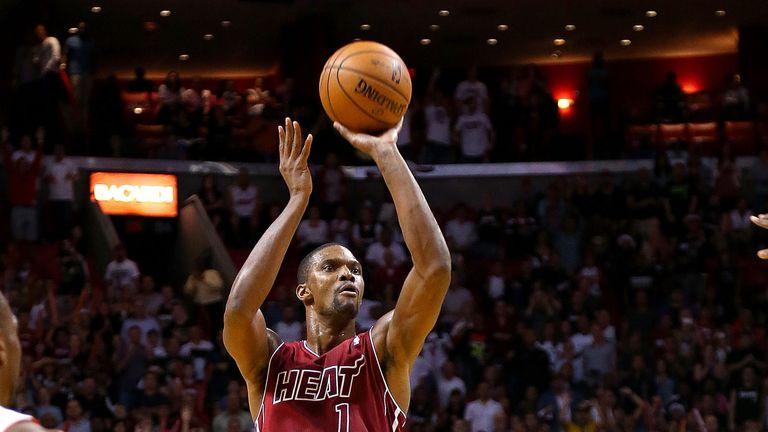 Chris Bosh celebrated his 30th birthday in style by helping the Miami Heat cling on for a 93-91 victory over the Portland Trail Blazers.
Although it was once again LeBron James who led the way in the scoring charts with 32 points and five assists, it was Bosh who superbly prevented Damian Lillard from laying up in the dying seconds to ensure the Heat escaped with victory.
Bosh eventually contributed 15 points and Chris Andersen had 13 with 11 rebounds, although the Heat were almost made to pay for squandering a 17-point lead in the fourth quarter.
The Philadelphia 76ers were condemned to their 25th consecutive defeat after being comprehensively beaten 113-91 by the San Antonio Spurs, who claimed their 14th straight win.
Austin Daye and Tim Duncan poured in 22 and 19 points respectively as the in-form Spurs marched on, while the 76ers will equal the all-time longest losing run in NBA history - with Cleveland Cavaliers also suffering 26 straight defeats in the 2010/11 season - if they are beaten by Houston on Thursday.
The Rockets are also on a decent winning run, having claimed their fourth successive triumph with a 100-89 victory over the Charlotte Bobcats.
Prevented
James Harden was in fine form as he notched 31 points, including 14 in what proved to be an important third quarter.
Twenty-seven points and eight assists from Kevin Durant proved pivotal as the Oklahoma City Thunder also claimed their fourth successive win with a 117-96 triumph over the Denver Nuggets, who had only lost one of their previous four.
An excellent team performance from Chicago prevented the Indiana Pacers from seizing the Central Division title as five Bulls players scored double figures in their 89-77 victory. The Pacers had been looking to regain the title they won last year and will still be favourites to do that.
Memphis gave their play-off hopes a shot in the arm as they moved a half-game ahead of Phoenix and Dallas and up into seventh spot in the Western Conference after Mike Conley's 23 points and six assists gave the Grizzlies a 109-92 win over the Minnesota Timberwolves.
The Suns are just behind the Grizzlies after earning the fourth successive win, with Eric Bledsoe's 20 points inspiring Phoenix to a 102-95 victory over the Atlanta Hawks, while the Los Angeles Clippers claimed their 50th win of the season as they edged past the Milwaukee Bucks 106-98.
The New Orleans Pelicans hit back from a 22-point third-quarter deficit to beat the stunned Brooklyn Nets 109-104 in overtime and Andre Drummond impressed with 19 points and 14 rebounds as the Detroit Pistons cruised past the Utah Jazz 114-94.