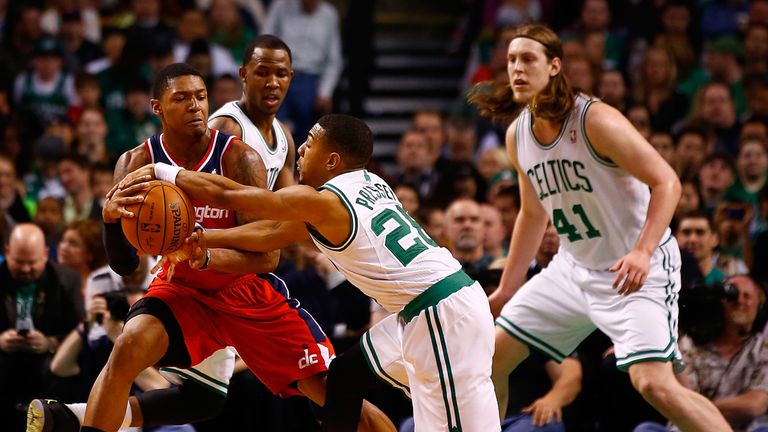 The Washington Wizards claimed their fourth successive win as they finished the regular season on a high with a 118-102 victory over the Boston Celtics and cemented their fifth place in the Eastern Conference play-offs.
Bradley Beal top scored with 27 points, seven rebounds and three assists for the Wizards, who finished the season with 44 wins in total.
Kelly Olynyk netted 24 in reply for the Celtics with seven rebounds and five assists as they suffered their second defeat in a row.
The Brooklyn Nets dropped down to sixth after their second straight loss, a 114-85 defeat to the Cleveland Cavaliers.
Tyler Zeller scored a game-high 22 points and grabbed 11 rebounds in the victory for Cleveland, moving the Nets to sixth meaning they will take on third-seeded Toronto in the first round of the play-offs.
Eastern Conference winners Indiana Pacers claimed a 101-86 victory over the Orlando Magic, who ended the season on a low note after recording their fourth straight defeat.
Double overtime
At the FedExForum in Memphis, the Grizzlies edged a 106-105 overtime victory over the Dallas Mavericks to clinch seventh place and a spot in the Western Conference play-offs with their fifth consecutive win.
Zach Randolph impressed with 27 points and 14 rebounds for the Grizzlies, who take on Oklahoma City in the post-season on Saturday night.
The Portland Trail Blazers wrapped up the regular season with a 110-104 victory over the Los Angeles Clippers, while Western Conference bottom side the Utah Jazz recorded a 136-130 double-overtime victory in a high-scoring match against the Minnesota Timberwolves to end their season on a strong note.
Elsewhere, the Milwaukee Bucks suffered a 111-103 defeat to the Atlanta Hawks, the New Orleans Pelicans claimed a 105-100 win over the Houston Rockets, the Oklahoma City Thunder edged a 112-111 result against the Detroit Pistons and San Antonio Spurs lost 113-100 to the LA Lakers.
The Charlotte Bobcats won their third straight game with a 91-86 victory over the Chicago Bulls, Miami Heat suffered a 100-87 loss to the Philadelphia 76ers, the New York Knicks overcame the Toronto Raptors 95-92, the Sacramento Kings lost out 104-99 against the Phoenix Suns 104 and the Golden State Warriors saw off the Denver Nuggets 116-112.