NBA: Kevin Durant stars for Oklahoma City Thunder against Memphis Grizzlies
Kevin Durant stars as Oklahoma beat the Memphis in the opening game of the Western Conference playoffs first round.
Last Updated: 20/04/14 9:06pm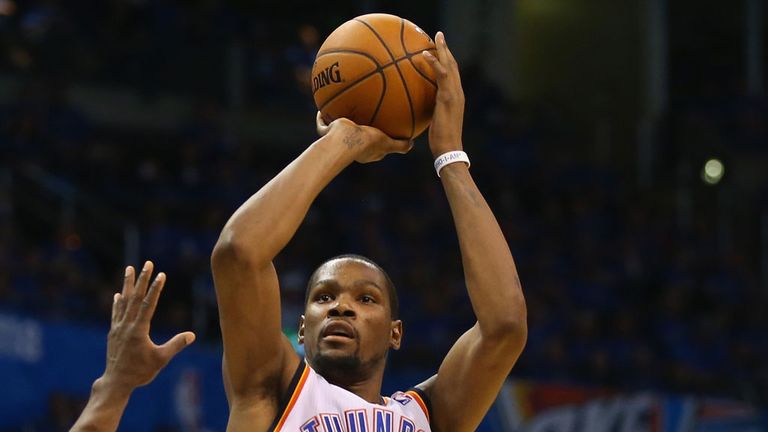 The 25-year-old contributed 33 points, eight rebounds and seven assists in the game.
Oklahoma were made to work hard for their win as the Grizzlies narrowed what had been a 25-point gap down to just two with just under nine minutes remaining.
The Thunder rallied, though, and outscored their opponents 26-13 in the closing stages to see out the game.
Klay Thompson scored 22 points and David Lee added 20 points and 13 rebounds as the Golden State Warriors surprised the Los Angeles Clippers in the opening round of the Western Conference quarter-finals.
The Warriors also almost threw away a healthy lead as the Clippers came back from 98-88 to lead 103-102 in the final quarter.
It remained in the balance until Draymond Green hit a pair of free throws for a 107-105 Warriors' lead with 24 seconds left and then Chris Paul missed two free throws for the Clippers with 11.9 seconds remaining.
Deron Williams and Joe Johnson each scored 24 points as the Brooklyn Nets defeated the Toronto Raptors.
It was a tight game, with a winner difficult to pick, until Nets center Kevin Garnett netted a fadeaway shot forward Paul Pierce added a three-pointer to give the home side a six-point lead with 2:57 to play.
Jeff Teague scored 28 points to lead the Atlanta Hawks to a 101-93 victory over Indiana.
The Hawks entered the post-season with the worst regular-season record (38-44) of the 16 playoffs teams, but were superb, particularly in the third quarter, during which they outscored the Hawks 30-16.