LeBron James and Dwyane Wade steer Miami Heat to victory
LeBron James and Dwyane Wade contributed 50 points as Miami Heat claimed a 99-88 win over Charlotte Bobcats.
Last Updated: 21/04/14 7:02am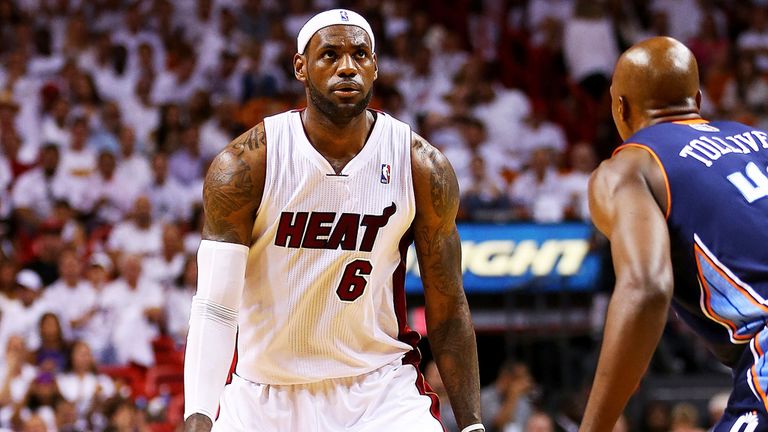 James made four of the Heat's 11 three-pointers and finished with 27 points and nine rebounds as Miami seized the advantage in the best-of-seven Eastern Conference first-round series.
Wade added 23 points and five assists for the Heat, who are trying to become the first club to win three straight NBA titles since the Los Angeles Lakers did it 2000, 2001 and 2002.
The Bobcats opened up a lead in the third quarter with 10 straight points, but Miami hit back and James' buzzer-beating three-pointer sent them into the final period with a 72-65 advantage.
James Jones contributed 12 points off the bench and fellow reserve Chris Andersen scored eight rebounds and pulled down 10 rebounds while shackling Charlotte's most potent offensive threat, Al Jefferson.
A foot injury hampered Jefferson, who finished with 18 points and one rebound, but his efforts were in vain as Miami pulled away in the closing minutes.
Wade admitted the hosts were not at their best, but is confident they can build on this win in the second match.
"Besides starting off slow in the first and third quarters. I thought we played a pretty good game," he said.
"Now we're going to go look at adjustments we can make and figure out how we can be better in game two."
Elsewhere, Washington Wizards secured a 102-93 game-one win over Chicago Bulls in their first play-off game since 2008.
Washington's Brazilian big man Nene scored 24 points, while Trevor Ariza had 18 points and John Wall finished with 16 for the Wizards.