NBA: Chicago Bulls' Joakim Noah named Defensive Player of Year
Chicago Bulls centre Joakim Noah has been named NBA Defensive Player of the Year.
Last Updated: 22/04/14 2:06pm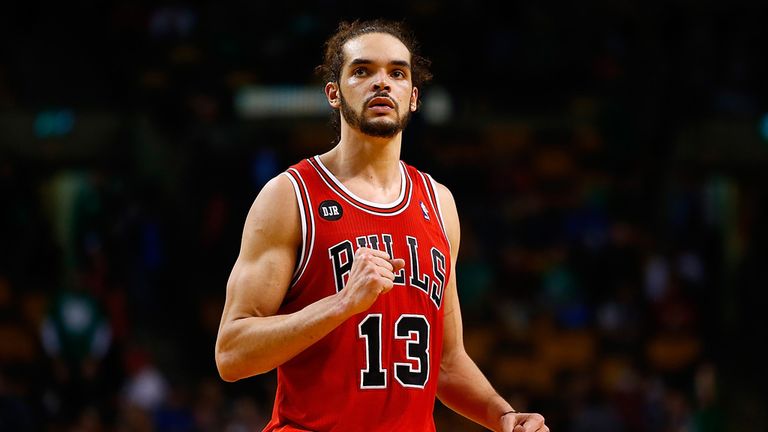 The 29-year-old claimed 100 of the 125 first-place votes in the annual poll of sportswriters and broadcasters in the United States, earning a comfortable victory over Indiana's Roy Hibbert and Los Angeles Clippers' DeAndre Jordan.
Noah becomes only the second Chicago player to win the coveted award after NBA legend Michael Jordan in the 1987/88 season.
Noah was the lynchpin of the Chicago defence over the regular season, helping hold opponents to an average of 91.8 points per game - the best record in the NBA.
He also recorded career highs of 12.6 points, 11.3 rebounds and 5.4 assists as the Bulls won 48 games to earn home advantage in the NBA play-offs.
"This is very humbling to be in this situation right now," said Noah, the son of former French Open tennis champion Yannick.
"This award is a team award. This wouldn't be possible without my boy Kirk Hinrich, an old man, picking up the opposition full-court.
"My whole team. Of course, coach Tom Thibodeau, we've definitely had our hard times, our ups and downs, but without your system, this wouldn't be possible.
"I don't do this for awards; I do this to win games. One day we were working out at the Berto Center, and Thibs was putting me through a real hard workout.
"I said, 'You know, Thibs, if we weren't winning games, I would really, really hate you.' And he said 'Trust me, Jo, I feel the same way about you.'"
'Best team-mate'
Bulls general manager Gar Forman added: "It's been really fun for all of his to watch him and his game evolve and grow over the years.
"He's a competitor. He's passionate. He's intelligent and he's a leader. But along with that, what Joakim probably is is the best team-mate that I've had a chance to witness in the 16 years that I've been with the Chicago Bulls."
Noah's father Yannick said: "I'm always surprised with everything that happens to him.
"I don't get used to it. Every time he gets introduced at the United Center, I just can't believe it."
Noah will now turn his attention to helping the Bulls bounce back in their first-round series against Washington, who roared to a 102-93 victory in the opener at the United Center on Sunday.