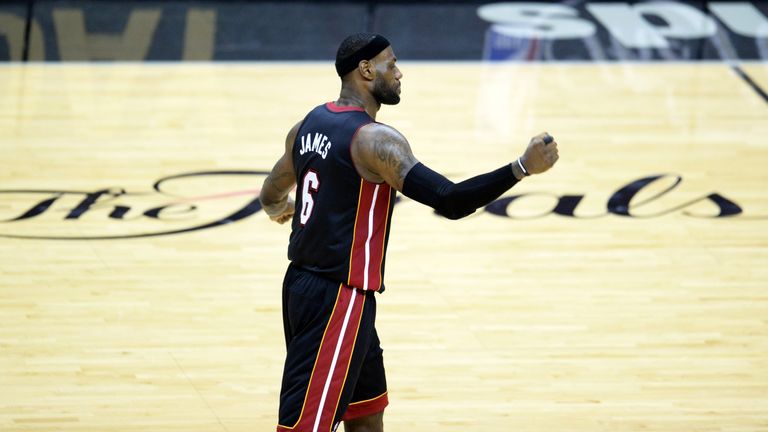 LeBron James shook off his opening-game torment to score 35 points and help the Miami Heat draw level with the San Antonio Spurs in the NBA Finals.
The Heat star man suffered with heat exhaustion and cramping in Thursday's opener to the series but was back close to his best form on Sunday, helping Miami clinch a 98-96 win.
After a personally slow start to the game, James made the key impact, helping Miami to surge from a six-point deficit to a five-point lead midway through the third quarter after scoring eight points in just 52 seconds.
It remained a tight game deep into the fourth quarter, but Chris Bosh's three-pointer nudged Miami ahead with one minute and 18 seconds to play and San Antonio could not come back.
Tony Parker led scoring for San Antonio with a 21-point haul.
Heat coach Erik Spoelstra said of James: "He was able to play for 37-and-a-half minutes but he was getting enough rest through the game and he seemed fresh at the end. Look, he's the best player in the game, he'll have a response."
A broken air-conditioning system that generated furnace conditions inside the AT&T Center during the first game, that San Antonio won 110-95, was repaired in time for the tip-off.
Mental toughness
It allowed Miami to focus on their task of improving their performance from the first game.
"We've been through enough of these situations," Spoelstra said. "We've been through enough ups and downs. You have to play through doubt and when it's going your way. The mental toughness starts two days ago with having to go through the film (of the first game) and trying to own what we could do better.
"Now we have to manage the other emotion; that can be just as challenging."
James expects a tough third game in the best-of-seven series, when after a pair of games in San Antonio it will be the Heat who have home advantage.
"They're going to make adjustments going into game three and I have to do it as well," James said. "I want their defence to react to what I'm doing."
Asked if various treatments had been proposed from outsiders after his cramp issue, James said: "I've heard it all. But I stay with my plan. Our training staff and medical team do a great job doing what we usually do."
Spurs coach Gregg Popovich admitted there were flaws in his team's display, saying: "I think it's a 48-minute game and we didn't move it enough of those minutes, basically. It's how we have to score. We can't put it in somebody's hands and have them create everything for us. It's got to be a group effort and we didn't do that.
"That puts a lot of pressure on everything else. It means we're going to have to be perfect on defence, we can't miss four free throws in a row, those sorts of things. You move it or you die."