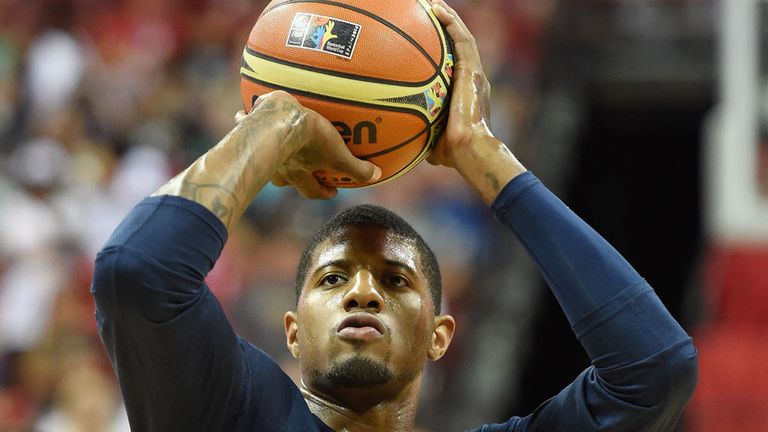 Indiana Pacers star Paul George has undergone successful surgery after suffering a gruesome lower leg injury during a US national team practice match in Las Vegas on Friday.
The 24-year-old NBA forward snapped the tibia and fibula bones in his lower right leg after he landed awkwardly and collided with the backboard stanchion while attempting to challenge James Harden, who was driving to the basket.
George will miss the upcoming FIBA World Cup in Spain later this month and there are fears he may miss the entire NBA season, though no official prognosis has been issued as of yet. 
Following the injury, his right leg was put in an air cast, and he was taken to a Las Vegas hospital after being treated for about 15 minutes on the court.
George was considered a certainty to make the final 12-man squad but has been sidelined along with Kevin Love, Blake Griffin, LaMarcus Aldridge and Kawhi Leonard who have all pulled out in recent weeks.
George is expected to remain in hospital for three days after undergoing surgery to repair an open tibia-fibula fracture.
USA Basketball chairman Jerry Colangelo said: "This is a first for us, to have something like this take place.
"It's a tough situation for our entire organisation, the coaches, the players. Very, very emotional."  
The injury is a hammer blow to the title aspirations of the Pacers, who lost out to the Miami Heat in the Eastern conference finals last year but will struggle to replicate the feat without one of the sport's rising young stars. 
Pacers general manager indicated the team are hoping George will be fit to travel to Indianapolis next week to continue his recovery there and he challenged his players not to let their standards slip in the All Star's absence. 
"Our first thoughts are with Paul and his family," he said in a statement on the team's website. "It is way too early to speculate on his return as the No. 1 priority for everyone will be his recovery.
"Our initial discussions with our doctors and the doctors in Las Vegas have us very optimistic. We are hopeful at some point next week Paul will return to Indianapolis to continue his recovery.
"There is no question about the impact on our team but our goal is to be as strong-willed and determined as Paul will be in coming back.
"Our franchise has had setbacks in its history but has demonstrated the abilities to recover. Paul will provide the example of that off the court and it is up to the rest of us to provide that example on the court."