Alex Ferguson names America's 10 biggest sports stars
Alex Ferguson names the 10 biggest sports stars in the States. Do you agree with his selections?
Last Updated: 09/04/13 11:16am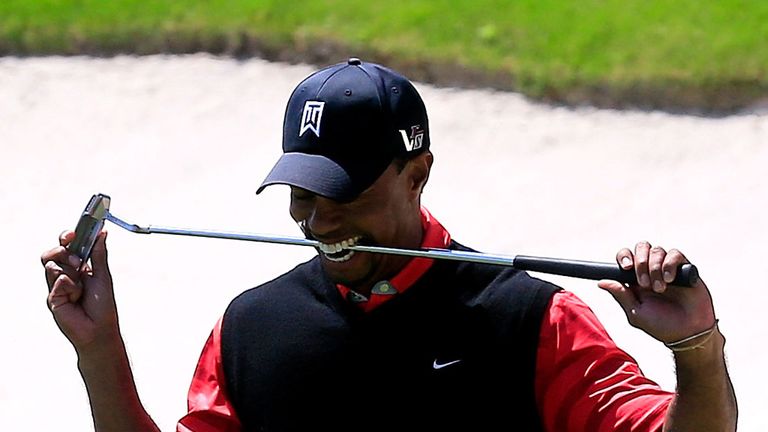 The baseball, NBA, NHL and NASCAR seasons are all in full swing, and if you're a glutton for winners and losers in American sport, then April's your time to dig in and take a piece of the pie.
With the sports, though, there are the stars and our blogger Alex Ferguson has named the 10 biggest in the USA ,compiled with thoughts on on-the-court success, endorsement money and fanbase...
1. Tiger Woods (Golf)
There is no bigger sports star in America. When he wins tournaments, the world watches. When he falls apart in tournaments, the world watches. When he doesn't perform in Ryder Cups, the world blames him. And now he's on top of his game, The Masters' TV ratings will go through the roof. For all the right reasons, too.
2. LeBron James (NBA)
Is LeBron James the new Michael Jordan? Perhaps. True, there are a lot of people that you could put up there with 'MJ', but the focus on this one man ever since he played high school 'ball has been stratospheric, and he's answered. He took Cleveland to a NBA Finals. His free agency decision was televised. And now his play at Miami - after winning an NBA title last year - has been better than anyone else's. And with Nike, Coca-Cola, State Farm Insurance, Upper Deck and Dunkin' Donuts all paying top-dollar to be a part of LeBron James' world, his profile off the court is massive as well. Oh, and he did a very good advert with a certain Mr Jordan, too!
3. Peyton Manning (NFL)
After spending 2011 out with a neck injury (and then getting cut by the Indianapolis Colts), Manning took over as quarterback at the Denver Broncos, and took them to the play-offs. Before that, he'd won a Super Bowl with Indianapolis and put up 50,000 passing yards and 399 touchdowns. In other words, he could have retired and still had a Hall of Fame career. But Manning isn't America's biggest NFL star just because he throws a ball well - Tom Brady and his brother Eli have won more Super Bowls than him! The Peyton Manning persona, cultivated brilliantly, has made America fall in love with him. He currently endorses MasterCard, Papa John's Pizza, DirectTV, Buick and Gatorade - and he's a great pitchman, and he keeps out of trouble.
4. Kobe Bryant (NBA)
Kobe Bryant is going to the Hall of Fame. When the Shaq and Kobe show in LA was at the prime of its existence, it was virtually unstoppable. And although both players found it hard to play with each other (generally their selfishness has been blamed for it), they still won NBA Championship after NBA Championship. Kobe is now all on his own atop the Lakers food chain, and although he's found off-the-court notoriety, his excellence as a 'baller is unquestioned. And his endorsers (Nike, Sprite,Turkish Air, Mercedes and Panini) still love him, so much so they pay him a total of $32m in off-the-court cash, according to Forbes Magazine.
5. Derek Jeter (Baseball)
If there's one player in sports that symbiotic with New York and New York success, it's Derek Sanderson Jeter. Jeter was there before Alex Rodriguez and his home runs, massive salary, and even bigger ego, and he'll be there a lot after. As a pure brand name, Jeter couldn't be more loved. He hits well, runs well, and grooms well. The No.2 on his back has become iconic. And as for success, Jeter's all over that, too. He's taken home five World Series rings. He's been named as an All-Star 13 times. He's won a Silver Slugger Award - an award given out to the best hitter at each position on a team - five times, including once last year. Oh, and the Yankees have made him ultra-rich, too, in both salary and endorsements - Gillette, Nike and Gatorade all have a piece of him - and he has his own cologne, called 'Driven'. Which isn't a bad name at all.
6. Floyd Mayweather Jr (Boxing)
Speaking of massive stars, there's no bigger in boxing than Floyd Mayweather Jr. The reason we know this? Because people STILL can't stop talking about the potential match-up between 'Money' Mayweather and Manny Pacquaio - despite the fact that 'Pac-Man' looks past his best. Mayweather brings bling, mouth and WWE-style fun to the ring and a 43-0 professional boxing record. Man, we still remember the lesson in boxing he gave to Ricky Hatton. In 2012 he was sport's biggest-earning star, thanks to the fact he gets a take of pay-per-view money as well as career winnings. In his career, he's earned a cool $85m.
7. Tom Brady (NFL)
If it's on-the-field success you want in the NFL, then look no further than Tom Brady, quarterback for the New England Patriots. With Brady quarterbacking for the Pats, they've won three Super Bowls, won two NFL MVP awards and been picked for eight Pro Bowls. Off-the-field, he's married a supermodel in Gisele Bundchen, and got endorsements with Ugg boots and Under Armour. So that's your all-round American hero, folks!
8. Serena Williams (Tennis)
My buddy's argument for Serena Williams being on this list is simple: "She's the most successful female tennis player of all time. Despite being from the bad area of town, her father's drive to make her and her sister tennis superstars has pulled off, and although Venus' light is fading, Serena's just keeps on shining. Through Serena's success, she's got more kids playing the game and more people tuning into the TV. And because there's no real male American tennis hero out there now Roddick's retired, all the focus is on Serena. We'd also like to add that Serena has a tidy modelling career and endorsements with Nike, Wilson and Gatorade, which have all earned her a pretty penny.
9. Dale Earnhardt, Jr (NASCAR)
You may laugh having a NASCAR driver on this Top 10 list, but when you're the son of a superstar, and that superstar died in one of the biggest races in motorsport, suddenly you become a very big name. That's what's happened to Dale Earnhardt Jr. Dale Earnhardt Jr's career has been, to be honest, middling, but it's recently seen a revival under Hendrick Motorsports. Earnhardt Jr earns $24m in endorsements, including sponsorship from National Guard, AMP Energy, Quaker State, and Mountain Dew. He's also been sponsored by Budweiser, but when he moved to Hendrick, that sponsorship was left behind due to his new owner's sensitivities to alcohol sponsorship. Still, when Dale Earnhardt Jr wins a race or is competing for a championship, it's bigger news than if more successful drivers come in first. Which is a little strange.
10. Phil Mickelson (Golf)
Mickelson's hard to ignore, because he's a great golfer, and one of sports richest athletes. Over his career he's made $74m in golf winnings, but he's also a real winner with in endorsements, too, taking home a staggering amount. He can't be seen off the golf course with a KPMG visor, a Barclays shirt, hitting with Callaway golf clubs. Oh, and he's got deals with Rolex, pharmaceutical company Pfizer, and oil giant ExxonMobil, earning him around $30m a year. All that - and three Masters triumphs (as well as a number of seconds at the US Open) - have made for quite a brand.
Do you agree with Alex's list? Let us know using the feedback form below..
Catch Woods, Mickelson and the rest of golf's best players in action at the Masters, live from 7pm on Thursday, Sky Sports 1 HD.