'LeBron James' receding hairline has given Miami momentum'
Will LeBron James reveal his receding locks in Game 7? Either way, Miami will win, says Alex Ferguson.
Last Updated: 10/07/13 10:48am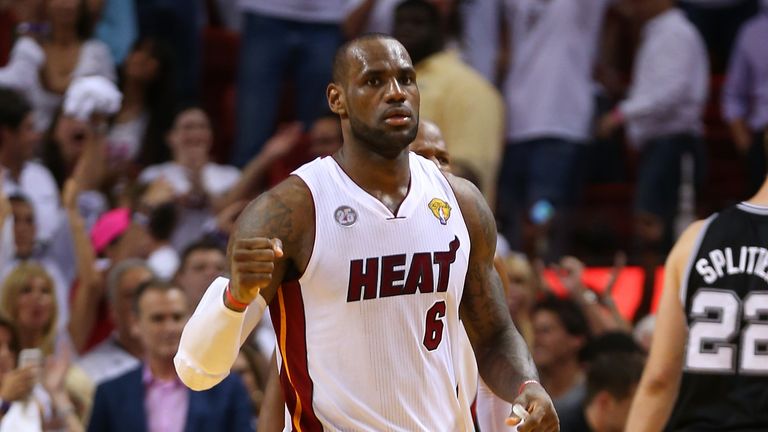 Anyway, Game 7 is going to be played in Miami on Thursday night/the early hours of Friday morning, and all of America will be viewing. And you can, too: the game's going to be live on Sky Sports, with tip-off at 2am.
Our writer Alex Ferguson previews the winner-takes-all clash...
HOW DID WE GET TO GAME SEVEN?
Before I start all this, I'd like to note that I'm really surprised I'm writing this instead of simply sitting on my sofa, looking out of a window and not quite knowing what day this is. And I don't support the Miami Heat or the San Antonio Spurs. I'm just an interested, somewhat passionate, observer.
Anyway, how did we get here? After Tony Parker's last-second teardrop shot in Game 1 that not only punished a number of Heat errors but also gave the San Antonio Spurs a 1-0 lead, the other games - and this is to put it politely - weren't exactly close. Games 2 to 5 weren't remotely close on either side. Miami won Game 2 by 19. San Antonio won Game 3 by 36.
Miami won the Game 4 by 16. San Antonio won Game 5 by 10. With four minutes to go, it looked that it might go the same way, with San Antonio up 13 and coasting - and even up five with under 30 seconds to go. But Miami came back, inspired by LeBron James and at the end, a Ray Allen three-pointer at the death that tied the game in regulation.
San Antonio will feel that they lost the game rather than Miami won it, but if we're honest, it's been a series of momentum switches.
Miami's last switch of gear - that Twitter yesterday (including Sky Sports' own @SkySportsNBA feed!) credited to LeBron James' decision take off his headband, reveal his not-so-subtle-anyway receding hairline to the world and own the Spurs in the fourth quarter - certainly inspired the Heat to victory.
WHY THE MIAMI HEAT WILL WIN
We'd like to say that if Miami DO win the NBA Championship this year, it won't exactly be a surprise. They've been champions designate since, er, the start of pre-season. These finals might not have seen LeBron James, Dwayne Wade - and certainly not Chris Bosh - dominate in the way we were all expecting them to, but now, they have the bit between their teeth.
James - who, we predict, will be the cause of Nike's share price collapsing after they announce a significant drop in headband sales - went from uninterested in the third quarter to absolute dynamite, dunking, and hitting the odd clutch three-pointer, too.
But on the other side of the ball, they ensured that Danny Green, who had killed them from three-point range all series long, wasn't able to do the same in Game 6 and was relatively useless, going 1-for-5.
They'll continue suffocating Green, which will mean that the Spurs depend too much on Tony Parker and a tired-looking Tim Duncan... and they can contain Manu Ginobili, if Tuesday night's game was anything to go by. Chris Andersen, Shane Battier and Bosh will be allowed to spread their wings defensively, and Bosh HAS to be better than he's been all season.
Oh, and lastly they've got Jesus (or his name Ray Allen?), who hit a last-second three-pointer to break Texan fans hearts. Oh, and Mr Shuttlesworth had enough game to not even smile when the 2013 version of the 'Shot Heard Around The World' went through. He's got it, after all.
The Miami Heat will also win because of the fact that the game's in Miami. Although it's well-known that Heat fans streamed out with the side down heavily in the fourth quarter, and then, when it emerged that the Comeback Of The Witnesses was on, they tried to come back and weren't allowed to, the American Airlines Arena was still electric enough to inspire the Heat in the final throes of the game, and they are going to create quite the tough environment for the Spurs.
WHY THE SPURS WILL WIN
The San Antonio Spurs are going to win because despite leading the series on three separate occasions, they've always come back stronger. After being annihilated in Game 2, they came back and took Game 3. The same happened with 4 and 5.
They'll win because Greg Popovich is the best coach in the NBA - and he'll be able to galvanise his team from what will was a heartbreaking loss. That's why - Tony Parker and Eva Longoria aside - the Spurs don't really make the gossip pages. They simply win.
Look, Tuesday night's blowing of a 12-point lead late on could have happened to any team... and it HAS happened to any team. 'Popp' will know that at-the-death situations, he'll probably want to put his best rebounder, Tim Duncan in the paint in the future, as should have happened at the end of regular time.
Speaking of Duncan, he might be utterly expressionless, but in the first three quarters of Tuesday's game, he was absolutely incredible. You couldn't deal with him. But he's good enough that he'll learn from the mistakes and mishaps of the fourth quarter, and come back stronger.
He might be old, but he's the best leader on the court out of both sides. He's a brilliant rebounder and he'll cause problems for the Heat all night long. The Heat couldn't deal with Tony Parker, either, and they'll struggle to do it again in Game Seven. There isn't a more electric player on the court.
Danny Green is pretty used to playing in big-time games, too, after he played at North Carolina in college, and even if he's not firing from all cylinders on Thursday night, he'll certainly be firing on all cylinders defensively, as he showed when he stripped LeBron James on a breakaway late into Tuesday's game. He'll be back to light it up on Thursday night - you mark our words.
The only mystery for the Spurs is going to be the Argentinian basketball Maradona, Manu Ginobili. After a laughably awful Game 6 (and if we're honest, every game but 5!), he's going to rebound to his best. When he's on fire, he can close to unstoppable. He'll be back on form on Thursday night- you'll see.
FERGIE'S FORECAST: We're going for Miami Heat to win two straight - and take home the NBA Finals crown. Unsurprisingly.