NBA Finals 2014: Miami Heat to beat San Antonio Spurs in Game Seven
San Antonio love a three-pointer, says Alex Ferguson, but will lose to Miami in the NBA Finals.
By Alex Ferguson
Last Updated: 04/06/14 4:16pm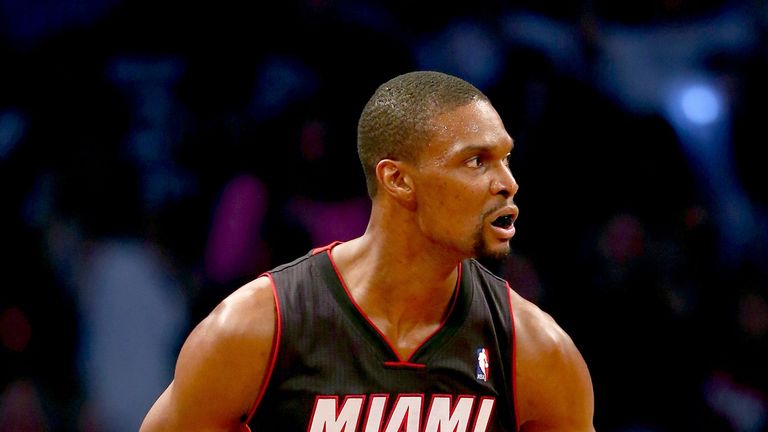 The two teams played each other in last year's finals in an incredible series, with Miami coming out on top in seven.
skysports.com's US sportswriter Alex Ferguson previews this year's battle...
You remember last year's NBA Finals, right? Ray Allen hits the three in the dying seconds to take the Finals into overtime. The crowd in white goes absolutely crazy. Miami wins and survives. And then takes Game Seven. LeBron is God once again, but really, it's Jesus Shuttleworth.
Tim Duncan, San Antonio's talisman and future Hall of Famer, said after the Spurs ended Oklahoma City's dreams (once again): "We have four more games to win. We'll do it this time." Anyone who jumped on the media bandwagon and called Tim Duncan a 'trash talker' probably needs to watch a little more basketball. He's one of the good guys, kids. He was hardly going to say: "Well, I think we'll get swept", was he?
HOW THEY GOT HERE?
Everyone thought Indiana was going to be Miami's biggest test. In truth, they really weren't. Miami's six-game win was more comfortable than the series scoreline suggested. And before that, they'd stomped on Charlotte and brushed aside Brooklyn. In San Antonio's case, they were taken to a Game Seven by Dallas (before stomping the Mavs by 23) in the first round. But after that, they blazed Portland's trail, winning 4-1, before needing overtime in Game Six of its battle with Oklahoma City to finally tune out the Thunder 4-2. In other words, San Antonio's been through more than Miami. But then again, the strength in this year's NBA schedule was in the West, not the East. In the regular season, San Antonio had a 62-20 record while Miami finished 54-28.
EDGE: Miami. They are less tired.
BEWARE THE THREE-POINTER
We love the three-pointer. It's one of the most exciting plays in sports. We've imagined ourselves taking a lot of NBA Title-winning shots from outside the line, but there's a reason we're writing and they are playing. And there's a lot to love in this series. The way Ray Allen shoots a three is beautiful. But he's only hit 24 times in 63 attempts. Tony Parker, who's struggled with injury, only has eight in 23. But note the future heroes? Danny Green has been clutch all play-offs long for the Spurs (39 of 81). Shane Battier, who's a defensive ace for Miami, has hit nine of 18. James Jones and Norris Cole of Miami. As does Boris Diaw and Marco Belinelli of San Antonio.
EDGE: San Antonio
WHO'S GOING TO RULE THE BOARDS?
Last play-off series we heard all about the importance of the Thunder's Serge Ibaka and how he would be the key to beating the Spurs. It didn't happen (more thanks to Ibaka's injury than anything else). Tim Duncan, Tiago Splitter, Kawhi Leonard have all been excellent on the boards for San Antonio. So that means Miami's going to roll over under the net? Er, not when they've got LeBron James and Chris Bosh, and the exceptionally feisty 'Birdman' Chris Andersen. Miami's stats would be a lot higher if they hadn't beaten all of their play-off opponents into a cocked hat. It's going to be a war under there, folks. Don't be surprised to see a lot of fouls called and maybe some blood.
EDGE: Miami
WHO'S BETTER ON THE FREE THROW LINE?
The Spurs have got a better free throw percentage (.785 to .760), and frankly, I'd take Manu Ginobili, Tony Parker or a number of these Spurs on the line against the Heat. Well, anyone but Ray Allen. And maybe LeBron.
EDGE: San Antonio
WHO'S GOT THE INJURIES?
As we said in our preview of the Stanley Cup Finals, everyone's pretty beaten up after the regular season and the play-offs. We think Miami's a little bit healthier, what with Tony Parker struggling with an ankle injury. That's a pain for the Spurs, because Parker's averaging a tidy 16.7 points per game for the Spurs in these play-offs, and he's a future Hall of Famer. Which means he'll be pretty important to the Spurs hopes of getting revenge.
EDGE: Miami
WILL LEBRON WIN ANOTHER ONE?
LeBron James isn't The Next Michael Jordan. He's LeBron James. What you are witnessing right now is one of the best sportsmen the world's ever seen... in his prime. And it's a joy to watch. He leads the team with skill, with selflessness, and with a lot of grit. We love you, oh head-banded one. During these play-offs, LeBron's been great, averaging a tidy 27.1 points per game, as well as around seven rebounds and five assists. The talent he has around him - Dwayne Wade (18.7 PPG) and Chris Bosh (15.2). And fun fact: Bosh has averaged 24 points per game in the last two match-ups against San Antonio (Regular season series was split 1-1). Sky Bet doesn't seem to think LeBron will win a title this year. They've got San Antonio as 5/6 favourites, with Miami evens.
WHAT DO WE THINK?
This series is going to be extremely difficult to decide. We're going with Miami in (another) seven-game series. Sadly for the Spurs.