Alex Ferguson looks at the off-season options facing the NBA's leading star, LeBron James
By Alex Ferguson
Last Updated: 19/06/14 5:26pm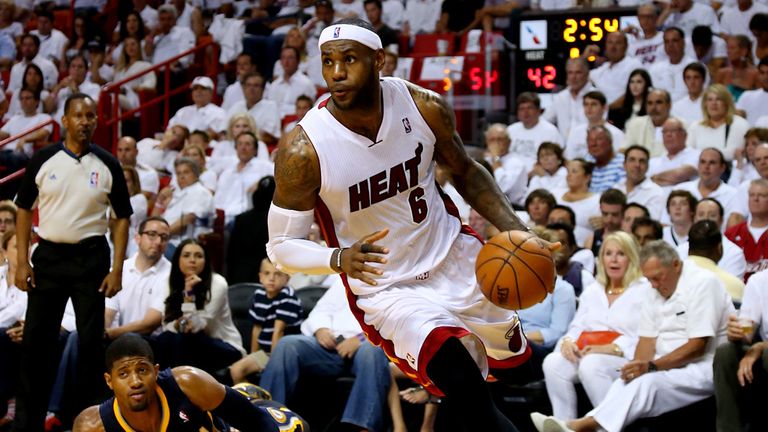 The biggest question on America's lips this summer – apart from the future of their football team – will be whether LeBron James will stay in Miami, or opt out of the last two years of his contract and test out the market.
Alex Ferguson, who predicted LeBron would win his third NBA Title in a seven game thriller before the Heat were schellacked by the San Antonio Spurs in one of the most lop-sided NBA Finals we've ever seen, lays out LeBron's options….
The United States of America has taken to the 2014 World Cup like ducks to water. US Soccer fans – outside of Brazil – are the biggest buyers of World Cup tickets (although the Mexican fanbase who live in the USA probably has taken a piece of that), with 196,000 tickets going to the Land of The Stars And Stripes.
And while – for a lot of the fans – their love of the sport is a pretty recent relationship (they would probably struggle to tell you who Dennis Bergkamp or the 'other' Ronaldo is) one – you couldn't say the same for their knowledge of basketball. Stop anyone American in the street, and they'll probably give you an opinion on where LeBron James is going to end up after July 1st, when he can tell the Miami Heat if he wants to opt in for the next two years (and get very well paid) or go and explore his options (and get even better paid). And, they'll also tell you if Chris Bosh and Dwyane Wade should stay around, too, and if the Heat are going to bring in another superstar.
There are no bigger stars in the NBA than LeBron James. Sure, he's won fewer titles than Kobe Bryant and Tim Duncan, but there's no argument as to his scoring capability and his all-round excellence (four times he's been voted the NBA's most valuable player). If you ask ten coaches who he'd love to take as his No.1 player, nine out of ten of them would take LeBron James.
There are no bigger stars in the NBA than LeBron James. Sure, he's won fewer titles than Kobe Bryant and Tim Duncan, but there's no argument as to his scoring capability and his all-round excellence.
Alex Ferguson
There's the pre-game chalk toss. There's the look over to the benches at Michael Jordan after a monstrous dunk in the play-offs that said: "Hey Airness, I'm coming for you". And then there's the flat-out, never-give-up, dominant team player that you love to watch, even though it's hard if your team's on the other end of a LeBron beating.
But LeBron can't do it himself. He learned this the hard way in this year's NBA Finals, when his own great performance (28.2 pts, 7.8 rebounds, .519 from 3-point range) wasn't mirrored by the performances of his teammates, who seemed to show up as well as Spain has done so far this World Cup.
So where does he go?
1) Stay in Miami
On July 1, LeBron James may want another challenge. The last two years of contract will net him a tidy $20.1m in the 2014-5 season, and an even tidier $21.6m in the 2015-6 season. Now, if he re-signs with Miami, he could make $23.1m, $24.6m, and $26.1m for the next three seasons….and Business Insider notes that that's $30m more than any other team signing him out of free agency could pay him – per NBA rules.
And if he stays in Miami, he's going to have to persuade Dwyane Wade and Chris Bosh to give up over $80m combined over the next two seasons and restructure their contracts in an effort to keep team unity.
Then he's going to have to restructure his own contract (maybe taking another salary drop), in order for the Heat to sign another superstar (the rumour mill's already discussing one Carmelo Anthony), and give the team another chance to take a trophy to South Beach.
Writers are already saying that they've heard from LeBron's camp that he's not exactly happy at the prospect of saving his owner money….although he is said to have a good relationship with Heat president Pat Riley.
2) Go Back to Cleveland
If you remember, LeBron James left Cleveland in quite a haze in 2010, after making a TV program called 'The Decision' where he told viewers that he'd "decided to take his talents to South Beach", with the sort of vomitous pomp and circumstance normally reserved for a Disney Film.
Anyway, after LeBron left Cleveland owner Dan Gilbert called the TV program "narcissistic" and called his decision to leave Cleveland "heartless" and "callous".
Anyway, Gilbert needs to do a bit of bowing to the King, because everyone's talking about the possibility of Ohio-born James returning to Cleveland for another stint.
With Kyrie Irving and one of Andrew Wiggins, Jabari Parker or Joel Embiid on the team, Cleveland has a lot of young talent…and a lot of money. But would he take less money to "for another challenge"?
LeBron James could also get the coach he wants as well as the backroom staff he wants, and he would go back to being King Of Cleveland (if that doesn't sound like an episode of 'Family Guy').
3) Go somewhere else
We GET that this is hardly a ground-breaking third choice. Potential suitors include the LA Clippers, who have former Microsoft CEO Steve Ballmer's billions (i.e enough to pay LeBron's salary), the LA Lakers (although would he play nicely – or second fiddle - to Kobe Bryant?), the Houston Rockets (although they would have to do a lot of their own team reorganization), and maybe a union in Charlotte with His Airness himself, Michael Jordan. The final one is pretty unlikely, but it's OK to dream, right? Any team that takes on LeBron is going to have to have the right pieces in place for James to win and win NOW. Or be able or prepared to sign them.
Whatever happens, it makes for an interesting off-season in the world of the NBA. Mind you, it always is, isn't it?