NBA: LeBron James' the second superstar in Cleveland, says Alex Ferguson
By Alex Ferguson
Last Updated: 12/07/14 3:27pm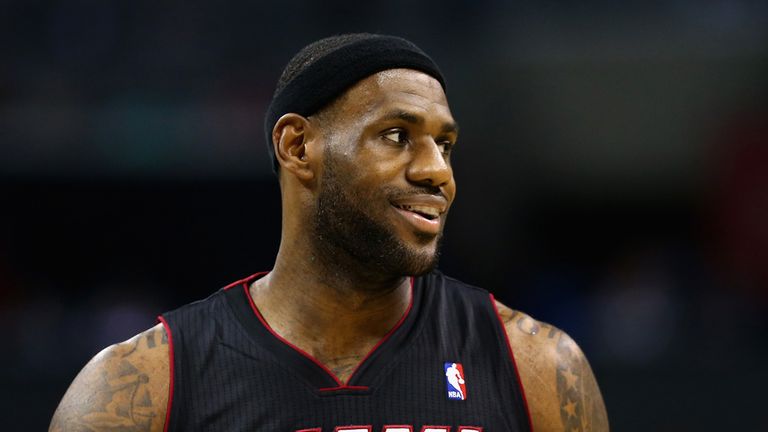 Tongues across the Atlantic were wagging on Friday when NBA superstar LeBron James announced that he will be returning to Cleveland to play for his former team the Cavaliers.
US sportswriter Alex Ferguson has more on the move, and looks at some of the reasons why…..
So, after weeks of people trying to work out where the biggest star in basketball is going to end up playing LeBron has made his decision.
First we thought he was going to stay in Miami, then we thought he might go to Houston, then we thought he might return to Cleveland. We asked ourselves: 'Why in the world would he return to Cleveland after Dan Gilbert, the Cavaliers owner, wrote that horrible note to the superstar when he left for Miami in his last bout of free agency?' 
Then, a few days ago, Gilbert's open letter to LeBron James - that effectively told him he wasn't welcome in the town again after James announced that he was, 'taking his talents to South Beach' in 2010 live on an ESPN show called 'The Decision'  - mysteriously vanished from Cleveland's website.
James met with Cleveland. He met with Miami. He met with Cleveland again. The jokers on social media called his lack of decision 'The Indecision'. We all giggled a little at LeBron's inefficiencies – something he's never really shown on the court floors of the NBA.
All the Cleveland Indians need to do is sign Mike Trout of the Los Angeles Angels or someone of that ilk in the world of baseball (it's never going to happen, but you can still hope)…and suddenly Cleveland is THE place to be.
Alex Ferguson
He met with the most important commercial partner in his life, Nike, and I assume his question to them was: "Where do YOU think I should go?". Or maybe he was telling Nike: "I've made my decision. I'm returning to Cleveland". 
And, on Friday, in an open letter to Sports Illustrated, he told the world – in somewhat under-the-radar fashion (ie no TV show, massive press conference) - that he was going to be playing in Cleveland in 2014 on a four-year contract….and then he jumped on a plane to go to Brazil to watch the World Cup Final, where no doubt he can see what a true global sporting star looks like in Lionel Messi. The last time LeBron saw a finals celebration it was in Game 5 of the NBA Finals earlier this summer, when San Antonio rounded off a 4-1 thrashing of his Miami Heat, and he could only watch on stunned.
LeBron has explained his reasons for the return; Family - he's from Akron, Ohio and he wants to bring up his soon-to-be daughter (his wife's pregnant with their third child) up in the Ohio area; he wants to do what he wasn't able to do the first time he was in Cleveland - bring a NBA title to the town – "Our city hasn't had that feeling in a long, long, long time", James said in his interview; and lastly, he wants to finish his career there. He added that the next part of his career was either going to be continuing to show his talents in South Beach, or go back to Cleveland. Other teams were never in the mix, apparently.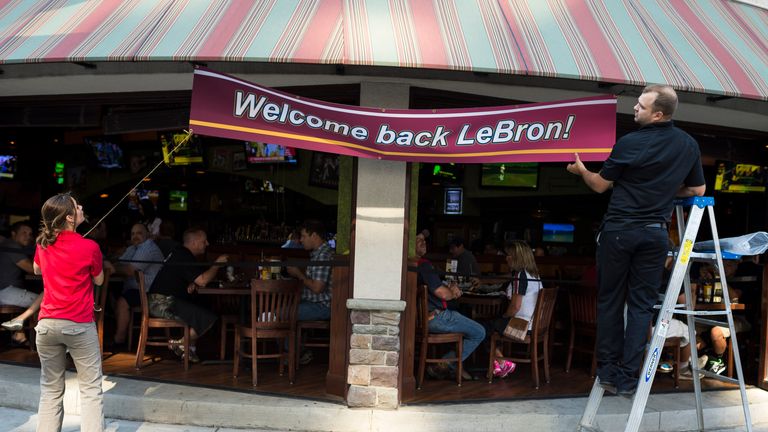 City of Gods
The great thing for LeBron James' return to Cleveland is that he won't be carrying the Cavaliers completely on his shoulders now. He's got a foil in excellent young player Kyrie Irving, who put a lot of smiles of Cavs fans' faces last season….but nevertheless the Cavs were 33-48 last season, and finished 23 games off the division lead. Also, Andrew Wiggins, Cleveland's No.1 Draft Pick is going to be coming to town. Wiggins was a sensation in college – despite not having a great NCAA Tournament – and would have given Cleveland fans a lot of reason to be excited even if LeBron had decided to stay in Florida. He might not have brought them a title, but he would have at least made them a little more competitive. And who would be a better teacher for Wiggins than LeBron? Listen, we're not saying the James, Irving and Wiggins trio, that you might well see take the floor on the Opening Day of the 2014-5 season, will be anything close to the James, Dwayne Wade and Chris Bosh trio that brought the Miami Heat to the promised in the last three years, but it makes Cleveland suddenly a team that you're not about to ignore in a hurry.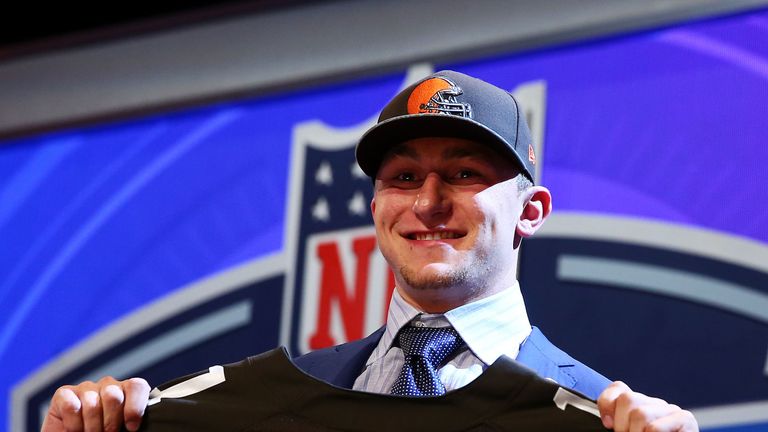 Also – and this is one of the things that a lot of people AREN'T talking about – LeBron James is not going to have all the media focus on him for a change. In Cleveland sports, the Cleveland Browns are still the biggest thing going on in Cleveland, and so the Browns' decision to get Johnny Manziel – College Football's biggest superstar – in this year's draft has fans' mouths watering as to what might happen in the 2014-5 NFL season. Johnny Manziel has so far been in more bars than plays on the football field which only increases the media scrutiny. Hell, Manziel's tweet: "YESSS!! Couldn't be happy for my guy LeBron and the Cavs", was news in articles following up about LeBron's return to Ohio. Manziel was God in College Football, LeBron is God in the NBA. All the Cleveland Indians need to do is sign Mike Trout of the Los Angeles Angels or someone of that ilk in the world of baseball (it's never going to happen, but you can still hope)…and suddenly Cleveland is THE place to be. But I can't help but think that the massive focus on Manziel takes the focus away from LeBron, and that can't be a bad thing for the megastar.
If you're a marketing person for the City of Cleveland, LeBron's homecoming should have you attending church on Sunday to thank God for delivering you not one, but two sporting superstars in 2014. Manziel, whether he's a success or not in the NFL, will go down as one of the most exciting, fun players college football has EVER seen. That's going to bring a lot of tourists into Cleveland to see Browns game. Then LeBron comes along? That's even more full hotels, bars and restaurants? Suddenly Cleveland and Ohio becomes a true tourist destination.
And if you're Nike? You probably don't care. Although it would have been better for your company's revenues if James had decided to stay in Miami. Brand LeBron is going to sell a lot of shoes, hoodies and T-Shirts WHEREVER he is. And the return to Cleveland adds a bit of redemption to the fairytale….particularly with a fanbase that HATED James when he decided to 'take his talents to South Beach'.
Anyway, good luck to Cleveland, good luck to LeBron James, and here's to a rosy future in Ohio.