NBA Finals: Miami Heat v San Antonio Spurs as Heat go for back-to-back titles
Reigning champions Miami Heat host San Antonio Spurs in the first game of the NBA Finals on Thursday night.
Last Updated: 09/06/13 3:39pm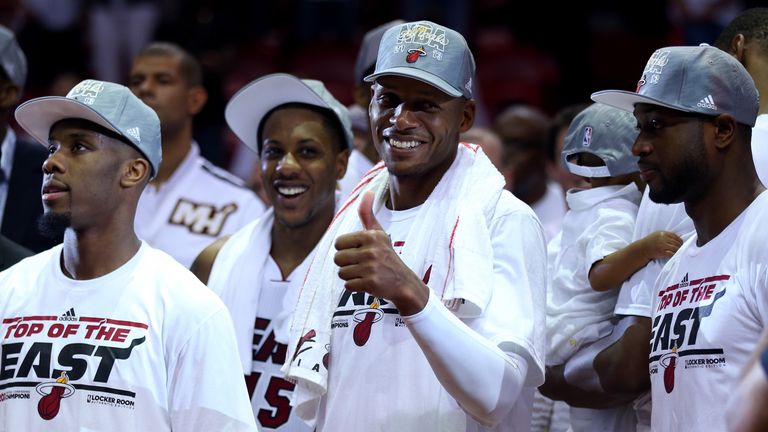 The Heat's 'Dream team' including LeBron James, Dwyane Wade and Chris Bosh will appear in a third straight NBA Finals after beating Oklahoma comfortably last year and losing out to an inspired Dallas Mavericks in 2011.
Miami have home advantage after recording the league's best record, and they will start at home at the American Airlines Arena in the first game of the best-of-seven series - which is live on Sky Sports 1 HD from 2am Friday morning.
It's important to get off to a good start at home with the first two games of the series being played in Miami, but the next three on the spin will be in San Antonio so if the Spurs can pinch one of the first two they will be in a great position.
The Spurs will enter the Finals as the fresher team, having easily overcome the Memphis Grizzlies 4-0 in their Western Conference Final, while the Heat were pushed into a seventh-game decider by the Indiana Pacers before they eventually scraped through.
Miami may be the big guns of the NBA right now, but the Spurs have four NBA titles to the Heat's two, and they are also unbeaten in NBA Finals have a perfect four-from-four effort, while the heat have won two from three.
Key men
James is obviously the key man for the Heat, as the reigning NBA Finals MVP and two-time league MVP is averaging 26.2 points, 7.3 rebounds and 6.4 assists in the play-offs.
This match-up could even drag more out of The King, as James was part of the Cleveland Cavaliers side that was hammered 4-0 by San Antonio when they won the last of their NBA titles back in 2007, so he will be desperate to reverse that result.
The MVP that day was Frenchman Tony Parker, who is coming off one of the best seasons of his career and will be one to watch for the Spurs alongside veteran Tim Duncan.
Duncan has spent 16 seasons with the Spurs since being drafted in 1997, and has four NBA titles, winning the MVP in three of those and also picking up two league MVP awards and 144 All-Star selections.
The Spurs have an international flavour to their line-up with and NBA Finals record nine of their roster hailing from outside America, including three-time Finals winners Manu Ginobili from Argentina, who is a real fans' favourite.
So Miami have the big guns and the red-hot form, but the Spurs have plenty of big game experience and an unbeaten Finals run to protect, it promises to be a Finals to remember.