Durham Wildcats competitive in second BBL season, says Daniel Routledge
Durham Wildcats are proving a competitive side in their second BBL season, says Daniel Routledge.
Last Updated: 09/11/12 10:04am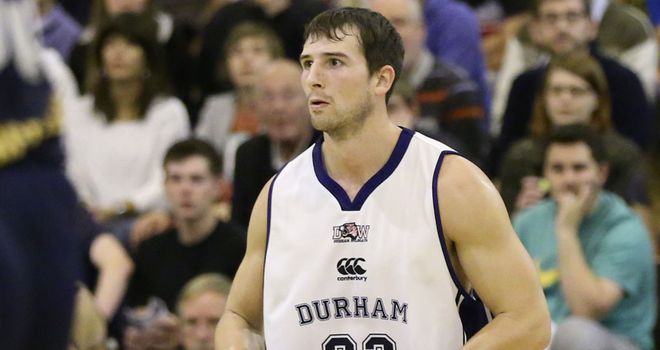 While Leicester's start to the season has been record-breaking for them, seeing last year's runners-up in top spot is not as big a surprise as last year's bottom side earning as many wins in their first seven games as they managed in the whole of last season.
Surrey also deserve an honourable mention for how well they have begun the campaign, but the Wildcats have definitely been the surprise package of the BBL season so far for me.
Competitive
Mike Baldarelli certainly seems to have settled into the league extremely well and the play of Keith Page, who joined from Cheshire in the summer, has also been a key factor in their good start.
It often takes a little while for teams coming up to the BBL to settle in to the top flight, but Dave Elderkin's side have certainly shown all the hallmarks of being a competitive unit in their second season.
They've had a couple of big losses at Newcastle and Sheffield, but other than that they've been there or thereabouts in all of their encounters.
Pre-season I'd have tipped Plymouth to be right up there challenging for honours once again given the quality of the squad they have assembled and I've seen nothing to dissuade me from that opinion.
So the visit of the Raiders to Durham should certainly prove a stern test to Durham's credentials, but it looks like no team will find it easy to win in Durham this term.
Having picked Newcastle to beat Leicester and Glasgow to beat Sheffield over the last couple of weeks, I've decided to take a week off from making any predictions, instead I'm just going to sit back and enjoy the game!
Blow
Sad news coming out of Leicester this week as John Fraley has returned home to the States for an operation after discovering ACL damage on the knee injury he picked up in Durham a few weeks back.
You always feel bad for any player who has his season cut short by such a significant injury and it is without doubt a massive blow to the Riders given he was the team's leading scorer and the league's leading rebounder.
We can only hope he makes a full recovery and is able to restart his professional career next season.
After last weekend's action we now have the final four for the BBL Cup with Newcastle facing Plymouth and Leicester taking on Sheffield over two legs later this month.
Newcastle-Plymouth is, of course, a re-run of last year's cup and trophy finals which adds more than a little spice to the match-up, whilst Leicester and Sheffield have plenty of history having met in big knock-out games several times in the cup and play-offs over recent years.
I'm not sure anyone would be confidently predicting the final pairing out of those four, certainly not someone with as poor a recent record as me!