Rob McCracken: Carl Froch and George Groves will be fantastic
Rob McCracken believes the winner of Saturday's clash between Carl Froch and George Groves will be the fight fans.
Last Updated: 21/11/13 6:36pm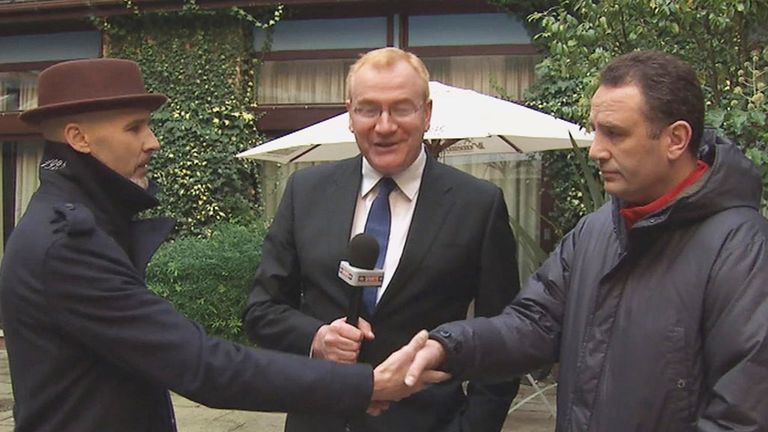 Froch will defend his WBA and IBF titles against unbeaten challenger Groves in the eagerly awaited domestic dust-up on Sky Sports Box Office.
McCracken, who has been guided Froch to three word titles, says the Nottingham fighter has been working hard in training and is raring to go.
"He's worked very hard, he's very disciplined," McCracken told Sky Sports News. "He is very motivated by some of the comments, so it's all good because it all makes for a fantastic fight.
"The winners are going to be the crowd in Manchester and British boxing because we're going to see two British boxers fighting in a big world title fight and Carl Froch defending his titles.
"It's going to be a great fight. You've got a young unbeaten British fighter who is very confident; has good power and boxing ability, and you've got an elite level fighting machine in Carl Froch, who has travelled the world, fought everybody and only really lost to Andre Ward."
McCracken's opposite number Paddy Fitzpatrick denied claims that his fighter Groves is "chinny".
"People's opinions, they're about as worthless as mine," countered Fitzpatrick. "We've seen one fight that he was bothered, the Anderson fight, and that's the only fight that you've seen him actually not fully in control.
"So it doesn't matter if he's chinny or not. There are guys out there with great chins that get stopped, look at Mike Tyson, and look at Ricky Hatton, the king of Manchester.
"Great fighter, undefeated, a real pressure fighter, and against Mayweather, an elite level but not the biggest puncher in the world, but he kept on getting hit, you can't keep getting hit.
"I agree with 99% of what has been said about this fight, George has yet to prove what he can do, Carl has proved what he can do, but there was a time when Carl had to prove what he could do and that was in his 24th fight, now it's George's turn.
"I fully believe in George, George fully believes in George and opinions don't count for nothing because when he fought DeGale, out of 31 experts, 29 thought he would get defeated - 29 people were wrong, it's an opinion."