Technically speaking
Three weeks on George Groves tells us where he went right and James DeGale went wrong...
By Tim Hobbs
Last Updated: 15/06/11 2:06pm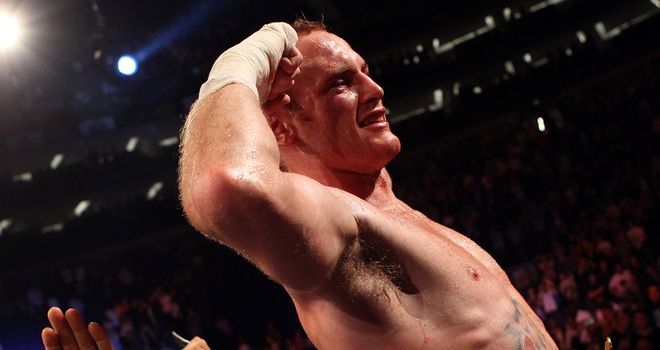 In the fight of his life George Groves produced the performance of his life.
His narrow points when over arch rival James DeGale ended in the closest of margins, but was enough to upset the odds and see him add the British to his Commonwealth Super-Middleweight title.
DeGale still believes he was robbed, but Groves took the plaudits for a display that many thought was beyond him.
He and trainer/manager Adam Booth have declined the requests for an immediate rematch, with the pair now looking ahead to world honours.
But before that - and David Haye's summer showdown with Wladimir Klitschko - Tim Hobbs caught up with the Saint to find out the secrets behind his sucesss...
The fight was obviously extremely close. Were you certain you'd won?
GROVES:
There was not one ounce of doubt in my mind. Adam had said to me before the fight that I was going to have to go against my natural urge to wade in and I always think about scoring punches rather than defending against punches, but he said to me if 'if you win the round by one punch that's all that matters. If you throw one punch and it lands and he doesn't throw one, that's it, you've got the round'. It was never going to be the gun-slinging shoot-out that James DeGale hoped for. He knew that was his only chance. Deep down he thought 'if I can stay tight enough and swing away - or slap away as it were - then I'll be ok'. But I knew that every round I was winning. The first round I did think I started a bit slow but just thought 'let's get back on it' and the second, third, fourth was big; the sixth was good, seventh was good, in the ninth he landed a few, but it was nowhere as one-sided as people would have you think.
The first half of the fight was decisive and when you probably won it. Did you really envisage it would go that well?
GROVES: I knew it would. James DeGale can't box long - no matter how many times he says it. He always says he can beat anyone long range but he can't. I have a better, sharper front foot and adjusting the range with that made it hard for him to punch - which is why he never punched. Then the fact that I can throw hard, powerful, fast, straight shots, especially with my backhand, was why I was continually landing on him throughout the fight - even though Jim McDonnell tells us he's got the best defence in boxing.
Boxing long, on the back foot seems to go against your natural instincts. How hard was it getting used to such a foreign style?
GROVES: At the start it was hard. Very, very hard. But training is hard. I'd be worried if I'd had a perfect training camp because then I would think I hadn't pushed myself hard enough - not everything should go perfectly. There's only one night when it should go perfectly.
Does that explain the black eye, the marked up face, the shot of you on Behind The Ropes with your head in your hands?
GROVES: That day I got frustrated in sparring, I had a problem with my headguard getting on my nerves, it kept going in my eyes and basically I was being a brat. I was sulking. It was good footage for Behind The Ropes and it was great that it went out because I think everyone thought 'wow, maybe that was the day... maybe he did get knocked out in sparring!'. But because I come into the gym with a black eye doesn't mean I'm getting knocked out; I wear an open-faced headguard, I was having realistic sparring, good fighters were throwing punches at me day after day and if wasn't getting hit I was perfect... or my sparring partners were no good!
Even so, we had seen nothing to suggest George Groves could be a back-foot fighter... did you ever worry about the gameplan?
GROVES: No. We identified what James does well and without giving too much away, because I'm fairly sure we're going to box again one day, he is good at staying low and throwing punches at a mid-range and he's developed a block-and-fire defence. Sometimes the more punches you throw at these guys the easier it is for them We identified that with James and Adam told me I could beat him short-range, mid-range or long-range and because he can't punch long, I said 'let's box long-range'. Adam totally agreed and we put that into sparring - and what works in the gym works in a fight.
He did catch you once or twice, espcecially in the ninth. Was there never the urge to do what comes naturally and come swinging back at him?
GROVES: Not at all. Not once did I think 'no! I got done there', so there was no need... even in that ninth round, which was a 50-50 round in which he trod on my foot, hit me with his head and missed me with a left hook. I stumbled back, watching it back Ian Darke was on commentary saying 'he's on his way out', but that was not the case at all. I just composed myself came out had a good 10th, hit him with body shots, good solid shots and he folded back in on himself. And that was the case for the whole fight. I took everything away from him.
So when Jimmy Lennon Jnr was playing it out, keeping us all waiting, there was honestly no doubt in your mind that you had won?
GROVES: Don't get me wrong; we were boxing on a rival promoter's show, against the Olympic champion who has had a lot of money invested in him and this was a grudge match, so when you hear majority decision, you suddenly think 'hold up... hold up'. I honestly felt I'd won it by four or five rounds - and I felt the same when I watched it back - but it was only when Jimmy said that two judges had a winner... I knew that was me; my hand goes up, you can see it in my face, James DeGale's head drops and he knows he's not going to get a draw in this fight.
Even when he delayed and delayed and said 'still undefeated' and when DeGale made the first move to celebrate?
GROVES: Even then. Again poor James didn't realise that there's more to life than just himself and he wasn't the only unbeaten fighter in that fight. As well as that he still hasn't realised he that he wasn't the only champion going into the fight; I was a champion as well, the Commonwealth champion, I brought in a prestigious belt to the ring, too. It was a 50-50 fight in that respect, but Jimmy Lennon Jnr kept us all on the edge of our seats - that's why he's top man - but I knew I had won. Hearing it was just fantastic...
And then the celebrations began...
GROVES: I did one jump but to be honest, I had planned not to jump at all. When I beat James last time I did my jump - because it was a majority decision again - and afterwards the spiel and spin said that James DeGale was the real winner and I was as shocked as everyone else. So I wanted to make sure that everyone knew this wasn't shock, just pure joy. But it's like when Chelsea get a penalty down at the Bridge, you know there could be a goal, there's a strong possibility it could be a goal, but when it goes in you still jump out of your seat!
After that you went straight to DeGale's corner. And he didn't say anything to you. Did you expect him to?
GROVES: No, not at all. I like to think I would be gracious in defeat and even if it was through gritted teeth, I'd say well done. But Jim McDonnell knows the boxing world a bit more and he did say well done - although he's come out and slagged me off since! James though, looked away as I touched his glove... and that sums up James DeGale.
In preparing for the fight do you think James DeGale and Jim McDonnell gave you and Adam Booth any credit for what you were capable of?
GROVES: Absolutely none whatsoever. We get pushed on what we are going to do and obviously you put up the smoke and mirrors because you're in the fight, but I wish someone had pushed him when he said 'if he comes and mixes it with me he's getting knocked out in four rounds, but if he tries to be Mr Technical it will last a bit longer'. I wish someone had asked him to elaborate, tell them what Mr Technical means, tell them how he would beat Mr Technical if he boxes at long range.He wouldn't have had a clue.
You told me from the very start you would win. But did that belief grow the longer the verbals went on?
GROVES: Every time I opened my my mouth, whether I seemed timid, whether I seemed confident, brash or arrogant, it was all for a reason. It was all thought-out and it was all said with the fight in mind. Everything James said gave away so much about him; the way he was feeling inside, his plans for the fight, how he thought I was going to fight. I think my nan, who doesn't even watch boxing, could've turned round and said James DeGale is hoping you'd become emotionally involved, stand there in the ring and swing away, so he can tuck up, block and fire - and hopefully land on my chin.
It sounds like the build-up went to plan as well. What you describe must have been music to your ears?
GROVES: It was. In fact the hardest thing for me since winning the fight has been not to look smug! In the build-up the first time I came face-to-face with him in the press conference eight weeks away and I was sat with Adam at the other side of the table and he was throwing insults,so I thought he did seem genuinely up for it. Then it came to the face-to-face... and he froze, the blood drained out of his face. Now it was no good me coming out and telling everyone that because they would expect me to say that, but in the car on the way back I told Adam, I told Dave Caldwell, we sat and discussed it and I told them: he can't stand being close to me, when there's not someone whispering in his ear, telling him how good-looking he is...
And then you both appeared on Ringside, when James admits he lost his cool. Do you think that was a pivotal moment - even so far out?
GROVES: We were in the car on the way to Sky and I said 'right, this is it, this will be the only time that he's going to get any sort of thought process from me' and I think I destroyed him on Ringside. I think anyone who watched that knew I would win the fight because as you are as a person, a lot of that crosses over to you as a fighter: he's not a thinking person, he's not a reactive or pro-active person, he's a rehearsed person. He's good at all those party lines - I've got the heart to play the part - and all those little sayings that must have been told to him by his parents or his trainer. But at the end of the day if someone presents you with a problem and you can't solve it yourself and you need to keep going to ask people to solve it for you... you can't do that during a fight. I knew we were going to pose problems that he hadn't rehearsed and because he couldn't solve them, he came unstuck.
He asked for an immediate rematch... I guess that didn't come as a surprise either?
GROVES:Evidently. Would I have got a rematch if I'd have lost? In the programme (Behind The Ropes) he said he's moving on to bigger and better things, that I was an itch on a shoulder he needed to get rid of, put it to bed once and for all - and to be honest, I said the same. I totally discounted my win over him in the amateurs, I said it meant nothing, this was the one that really counted - I didn't have to say that. If he'd have beaten me, I'd have said he'd done a job on me, but the fact is I beat him. I beat him again. What more can I do?
Is it a simple question of needing time apart from each other or is that the end of the George Groves-James DeGale story?
GROVES: As I said, I think we'll probably fight again somewhere down the line, what do I gain out of fighting James DeGale again now? I'd get a bit more money, but that's not the be all and end all. My career does not begin, end, or revolve around James DeGale. I'm the British and Commonwealth champion, I'm established in the British boxing scene and now it's about moving onto the world scene. I'm world ranked now, it's about developing those rankings, possibly picking up the European title. I'll probably box again in September but at the tail-end of next year, I will be getting in with the world's best.
When you do get back in the ring, do you think you've earned the right to have an easier fight, as it were?
GROVES: Not neccesarily an easier fight, but I think any fight out there would bring less pressure than James DeGale. James DeGale, I thought, would be my toughest test emotionally, but not technically, not tactically, not in a boxing sense.
The pressure came from a long, acrimonious build-up as much as anything? How emotionally draining was that?
GROVES: I feel I dealt with it very well and because of that it didn't seem like it was the ordeal it probably was. But it took its toll on my family, on my girlfriend, who had to continually talk to people in the street who were thinking I was going to lose. For me it wasn't a problem because I've learned to deal with that but for the first time my girlfriend had to put up with her work colleagues telling her 'you do know George isn't the favourite? You do know George is the underdog' and she was having to continually go through the long-winded story about how well I know him, how I beat him in the amateurs, how she had 100 per cent confidence in what I was doing. It was the same with my mum, my dad, my cousins, my uncles They're the ones that can now walk around with the smugness I should probably have!
The support you had went way beyond friends and family. Did that surprise you?
GROVES: It did. It shocked me. I knew the 900 tickets James DeGale had sold personally would be drowned out in the O2, but it went beyond the crowd on fight night. It was across the board and I have to thank everybody; it was genuinely humbling. I knew people liked me.. but I also have to thank James DeGale for making people hate him. I know my support has gone up dramatically because of his antics in and out of the ring.
So the build-up, the fight, the different gameplan all came together. It must have been an experience you can take so much from...
GROVES: Definitely. If you asked someone to tell you George Groves' style I don't think they could because I don't think I've got one. I've slugged it out with Kenny Anderson, I've boxed long with James DeGale, I've done this, I've done that. I've got quite a few strings to my bow and I don't plan on sticking with that either. It's about having as many different varities to serve you when you get to that top level.
Now your attentions, like ours, have turned to David Haye and Wladimir Klitschko. It's a massive summer for your team - was there extra pressure on you to get it off to a winning start?
GROVES: Oh yeah! Since I've been with Hayemaker, no-one has lost, so the pressure was definitely on. This was the biggest fight in British boxing definitely this year, possibly this decade and David's is the same, it's the biggest in world boxing - and will be for quite a while until some of the pound-for-pound fighters get it on. Because of that there was a huge amount of pressure, it was one I just had to win. But David and Adam had belief in me .In fact, I remember sitting in Miami with David and he was saying 'I don't get it! What do they all see that we don't - I can't see how you lose this fight'. I told him I don't read it anymore, let's just get on with it. I think there will be a lot of people saying the same for the Klitschko fight. But I think I've showed that hype isn't the be all and end all of a fight...