Jewel in the crown
Callum Smith is the youngest of four boxing brothers and a Commonwealth silver medallist, but big things are expected of the 22-year-old and we discussed his bright future with renowned trainer Joe Gallagher.
Last Updated: 11/01/13 12:30pm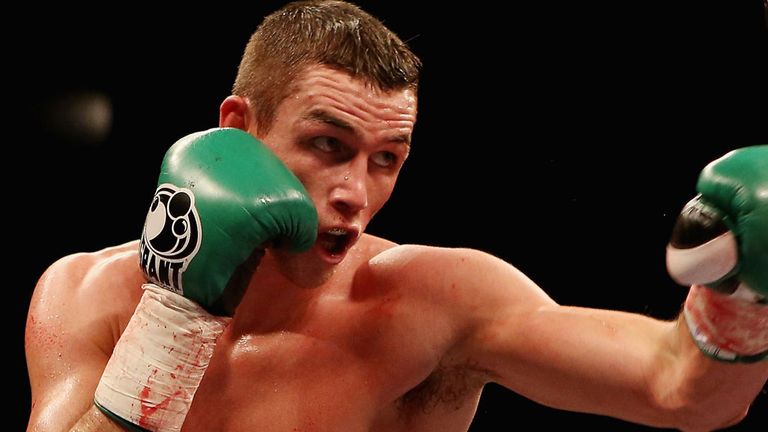 Britain's top amateurs are gradually deciding to join the professional ranks but nobody made such a high-profile switch as Liverpool's Callum Smith.
The youngest of four boxing brothers, 22-year-old Callum has plenty to live up to with Paul, Stephen and Liam all having won British or Commonwealth titles.
But the whisper around Gallaghers Gym in Manchester is that Mr and Mrs Smith have saved the best til last.
Highly touted in the run-up to the London Olympics, Smith ended up a frustrated figure on the sidelines after failing to make the Team GB squad in controversial circumstances.
Never mind - the amateurs' loss is the pros' gain. And late last year Smith joined Kal Yafai and Scotty Cardle in signing with Matchroom Boxing, who have now revealed Team GB skipper Tom Stalker as their latest recruit.
These are exciting times and after the razzamatazz surrounding his debut on the Carl Froch-Yusaf Mack undercard in November, Smith already sits with a 2-0 record to his name and is set to return to Belfast on February 9.
Education
And trainer Joe Gallagher spoke in glowing terms of the youngster, whom he believes could go all the way.
"The more people will see of Callum Smith the more they'll get excited about him," he told Sky Sports. "He sparred loads with Carl Froch ahead of his first fight, he's getting a good education in the gyms and it'll stand him in good stead.
"This time next year he'll fighting for titles. We can move him very quickly. Within five or six fights he'll be on the heels of the big names in the super-middleweight division, definitely."
But Gallagher cautioned that while Smith can make waves in 2013, matching him with the right opponents will be paramount to his progression as a professional.
"What we have to do is allow him to gain championship strength, he's only 22 but his frame will grow bigger," he added. "You can't turn professional and go from a four round fighter to a 12 round fighter in a year. It takes a couple of years to develop your conditioning and for your body to adapt.
"He's always in the gym, living well and doing strength work to build his frame up. With his skills it will be hard to hold him back. We picked the right opponents with the first two fights, I didn't want knockover jobs - you learn nothing from them - he's had eight rounds in two fights and it proved it's different to the amateurs, you've really got to hit them as they still come back for more.
"He's learned an awful lot in those eight rounds and that's what I want for his next four or five fights, distance fights and more rounds."
Impressive
Smith gave tough journeymen Dan Blackwell and James Tucker a good working over in his first two fights but Gallagher hopes it will be some time before his protege gets to show his full range of shots.
"The manner in which he won was impressive. For a very tall kid his inside fighting is very good," said Gallagher. "Because his brothers are very good inside I don't want Callum thinking that's the way for him too.
"He's a very upright boxer, with great inside tools that will stand him in good stead down the road, but he needs to stick to what he's good at, which is keeping the long range and use that to his advantage.
"We need to develop that jab, make it a nose-breaking jab, and with a good straight one-two you don't have to call on the inside shots, but they're there when you need them."
The tall, even lanky Smith campaigned at light-heavyweight as an amateur but is comfortable at the lower weight-class for now.
"He's doing the weight easy enough at the moment but it depends in two years time how he's developed and I can see him at light-heavyweight, but super-middle is his future at the moment," Gallagher concluded.
Wherever his future lies, you can be sure it will be a bright one.