Good friends Jamie Moore and Dave Coldwell are in opposite corners on July 13
Two good friends will be in opposite corners when Derry Mathews takes on Tommy Coyle in Hull on July 13.
Last Updated: 25/06/13 8:47pm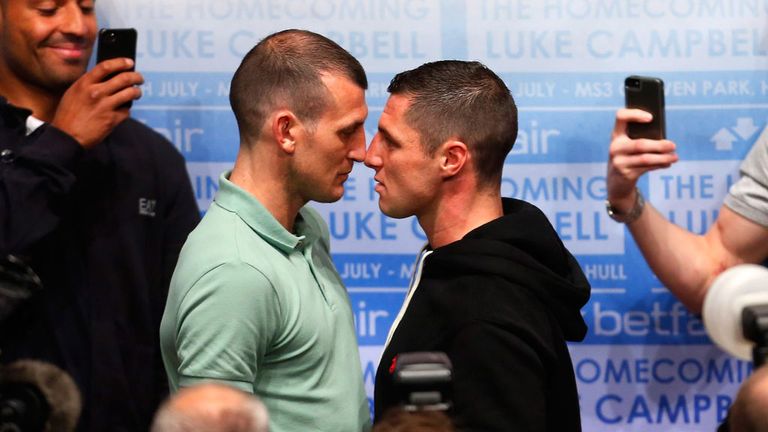 Mathews is promoted by Dave Coldwell while former British and European champion Jamie Moore has recently taken over as trainer of Coyle, who will be in front of his home fans at Craven Park.
But while Coldwell, a former Central Area title holder, and Moore go back a long way, one thing they can't agree on is the likely outcome of this fight.
Liverpudlian Mathews has all the experience to make him a hot favourite to win the title, proving that he is as good as ever earlier this year when he drew with Anthony Crolla for the same strap.
By contrast, Coyle is an emerging prospect and although he has lost only once, in last year's Prizefighter tournament, he has not fought at the same level as Mathews, a former British champion.
Gameplan
However, Moore believes he has been able to tap into some potential that Coyle's previous trainer Steve Smith had not previously unearthed.
"It's not for me to say really, but Tommy's been saying that he's never been trained like this before, proper tactics or gameplans, things like that," he told Sky Sports.
"If that's the case then I can add something to his game. I can read a fight well and I know Derry inside out, I've been in the gym with him and known him for years.
"He's very aware of his vulnerabilities and he protects them well. With him being aware of it makes us aware of it. My job as a trainer is to work out a gameplan to exploit that, and I feel I can do it.
"The other part of that is getting a fighter who is capable of doing it. When (manager) Steve Wood asked me to work with him I said I would only do it if I thought he could go all the way.
"I never wanted to go into training yet. I'm a family man, I've got young kids and I want to see them grow up. But we've worked out a training regime that doesn't really affect that.
"The first day I knew he had all the attributes to be nurtured and be made into a better fighter. I've been with him a few months now and he's come on a hell of lot.
"Everyone who has sparred with him before say he's improved a lot. So I'm happy with his progression, and as much as I like Derry I think Tommy has got all the shots and the moves to beat him. I do believe he can go a long way in the sport."
Untested
Countering that is Mathews' experience that has seen him win a WBU title, two English belts and the British strap. And Coldwell believes that CV will make all the difference.
"Derry had an opportunity to box in an eight-rounder in Liverpool or fight for a title, so it was a no-brainer," he said. "He won't be boxing in his home town but he'll box wherever.
"He loves going into the other guy's back yard and beating them. This is just another big fight for a title and Derry has been there and done that.
"Tommy is untested. The main issue will be when Derry hits him on the chin. Regardless of size or weight, it's about power and Tommy hasn't faced that power before. He's not faced anybody in Derry's class whatsoever.
"Derry's got miles on the clock but he's still fresh. There's a big difference in levels and I think Derry's experience at the top domestic level will count. It's about quality and experience and that's what Derry's got."
But Moore knows Mathews has suffered eight defeats in a 42-fight pro career and believes he has the template to make it nine.
"Derry's been there and done it, and he's come across fighters as good as Tommy Coyle, without a doubt," he added. "But a lot of those fighters beat him.
"Tommy isn't as experienced as those guys, but I am. And my job is to try and mould him and give him that knowledge before it happens. I've got to tell him that when you do 'this' he will do 'that'.
"I don't want him to lose this fight, but in losing you gain a lot of knowledge. I gained a lot of knowledge every time I lost and I'm trying to give him that to make him a better fighter.
"I wouldn't be working with Tommy if he didn't have the ability, but he's definitely capable of beating Derry Mathews. With the gameplan we've worked out I think we'll beat him."
Derry Mathews vs Tommy Coyle is one of several top quality fights as Luke Campbell makes his professional debut at Hull KR's MS3 Craven Park Stadium, live on Sky Sports HD on July 13.