World P4P rankings
We assess the current state of world boxing and pick our 10 best fighters on the international scene.
Last Updated: 13/11/13 7:04pm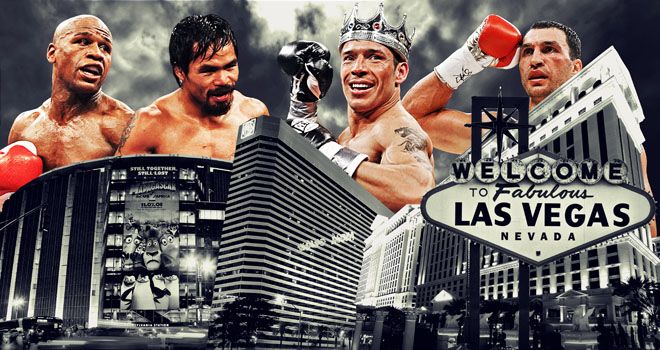 In any era it is natural to compare the ability of fighters and list them in terms of greatness.
This is our attempt to gauge the relative talent of today's active boxers and place them in order of merit, based on their performances over the past 12 months.
Our pound-for-pound ratings will be updated on a regular basis, providing food for thought and much debate!
Timothy Bradley leapfrogs over Juan Manuel Marquez after his victory over the Mexican while Wladimir Klitschko slips one place after his one-sided yet disappointing performance against Alexander Povetkin.
As ever, we want your views, so please leave your comments in the box below...
1.Floyd Mayweather
From: United States
Age: 36
Division: Light-middleweight
Record: 45-0

Few could argue about the number one choice, who remains undefeated and largely untouched in a 45-fight career. Dominant at welterweight, Floyd is also now a three-time light-middleweight title holder after beating WBC and WBA champion Saul Alvarez. A five-weight world champion in all, 'Money' dropped back down to his regular weight class to see off Robert Guerrero and remain the WBC's champion at 147lb in May and backed that up by nullifying the threat of Canelo using his trademark defensive skills and blinding hand speed. It's hard to see where a genuine threat to his supremacy will come from while he remains in this form.
2.Andre Ward
From: United States
Age: 29
Division: Super-middleweight
Record: 26-0

The self-styled 'Son of God' comes in second owing to his domination of a stacked super-middleweight division. Stylish victories over Mikkel Kessler, Arthur Abraham and Carl Froch have seen the American clean up at 168lb, with only his lack of marketability holding him back in the superstar stakes. Chad Dawson - a genuine P4P contender - came down from light-heavy to challenge Ward but hardly won a round, S.O.G putting him down three times before the referee stopped it in the 10th round. He shares a similar problem to Mayweather in that there are not many around to offer a serious challenge, and he faces the unbeaten yet untested Edwin Rodriquez next.
3.Sergio Martinez
From: Argentina
Age: 38
Division: Middleweight
Record: 51-2-2

'Maravilla' served a lengthy apprenticeship in his native Argentina before stepping up to middleweight, where he has etched his name as a future Hall of Famer. Two fights with Paul Williams was where he finally gained recognition, losing a 12-round war before scoring a vengeful second round knockout in the return with a victory over Kelly Pavlik sandwiched in between for good measure. British pair Darren Barker and Matthew Macklin were both competitive for 11 rounds but it was the victory over Julio Cesar Chavez that secured his legacy. A slight favourite beforehand, Sergio dominated 'Junior' for 11 rounds before being tagged and seriously hurt in the final session. He got through it - somehow - to remain the man to beat at 160lb, and against Martin Murray did just enough in his latest title defence. However, at 38 how much is left in the tank?
4.Timothy Bradley
From: United States
Age: 30
Division: Welterweight
Record: 31-0

Whatever 'Desert Storm' does in the ring he divides opinion, and little has changed after contrasting wins over Ruslan Provodnikov and Juan Manuel Marquez this year. Bradley had found it difficult to find a suitable opponent after his controversial win over Manny Pacquiao last summer, but nine months on he won over fight fans by getting off the canvas to beat the heavy-handed Russian. He opted to mix it with Provodnikov despite being hurt in the first two rounds and again in the 12th. The fight of the year candidate saw the American's stock rise but he reverted to type against Marquez, using his skills and intelligence to out-fox the veteran. It wasn't a crowd-pleaser but did what he had to do to get the win. Surely the second best welterweight on the planet.
5.Wladimir Klitschko
From: Ukraine
Age: 37
Division: Heavyweight
Record: 61-3

Heavyweights, perhaps more than any other, are defined by their era and sadly for 'Dr Steelhammer' his is undeniably a poor one. Since his defence was shored up and his suspect chin protected, Wlad has been imperious in collecting each and every belt going bar the WBC title held by big brother Vitali. Technically gifted with a piston for a jab and a jack-hammer for a right, Klitschko continues to dispatch sub-standard opponents with aplomb. Alexander Povetkin came to fight but the champion used his size and skills to nullify any threat the Russian may have posed. It wasn't pretty, and disappointing that Klitschko was unable to finish it early.
6.Danny Garcia
From: United States
Age: 25
Division: Light-welterweight
Record: 27-0

Garcia may not have a huge following beyond the east coast of the America but he is building an enviable CV that needs to be respected. Two defeats of a hollow version of Erik Morales sandwiched that famous knockout victory over Amir Khan, while 2013 has seen him defend his two titles successfully against Zab Judah and Lucas Matthysse. Yet while he struggled at times to best a rejuvenated Judah, beating a prime Matthysse will surely gain 'Swift' the international recognition he deserves. There are still a number of possibilities at 140lb, while a step up to welterweight would open up even more opportunities - maybe even a crack at Mayweather down the line.
7.Juan Manuel Marquez
From: Mexico
Age: 40
Division: Light-welterweight
Record: 55-7-1

A four-weight world champion (if you count the latest WBO interim' strap), the career of 'Dinamita' will be defined by what must surely end as a quadrilogy with Manny Pacquiao. His sensational one-punch KO earlier this year was one of the most memorable moments of 2013. However, he met his match in Timothy Bradley, who stuck to an intelligent gameplan to out-fox the infamous counter-punching Mexican. However, despite being 40, Marquez may yet have a say at elite level back down at light-welterweight.
8.Manny Pacquiao
From: Phillipines
Age: 34
Division: Welterweight
Record: 54-5-2

Pac Man has been in more big fights than Muhammad Ali and Sugar Ray combined, but at 34 the once dominant Filipino is now looking shop-worn. Not since he re-arranged the face of Antonio Margarito in 2010 have we seen the Pacquiao of old - victories over a shot Shane Mosley and Juan Manuel Marquez (contentious - again) proved little, while a highly controversial defeat to Timothy Bradley was later overturned by a WBO panel. But it was the fourth meeting with Marquez that told us how far Manny has slipped from the days when he scorched through the divisions taking out many big names on the way. And while Manny was a round up on all the cards the fact he walked onto a massive right hand suggests his star is very much on the wane. He has a chance to prove that theory wrong though when he faces American hard-man Brandon Rios next month.
9.Nonito Donaire
From: Phillipines
Age: 30
Division: Super-bantamweight
Record: 31-2

Rarely do the 'little guys' get their dues in the big picture but surely the 'Filipino Flash' is worthy of a high rating after tearing through four weight classes in as many highly active years. Manny Pacquiao's successor is willing to take on all-comers, rarely backing away from a challenge. This proved his undoing when he faced the two-time Olympic champion and undefeated pro Guillermo Rigondeaux in his latest outing. Against a style that was all wrong for Donaire, the defence-minded Cuban edged a unanimous points verdict that sent the 30-year-old to his first loss since he was defeated on his second pro bout. However, despite being unable to solve this riddle Donaire stays in the list and we expect him to remain among the elite when he steps up in weight again later in 2013 having apparently struggled to make 122lb.
10.Guillermo Rigondeaux
From: Cuba
Age: 32
Division: Super-bantamweight
Record: 12-0

The exiled Cuban makes his first appearance in the list following his decisive victory over Donaire in April. The two-time Olympic champion had won a world title in only his seventh pro fight but he was the underdog heading into the unification scrap with Donaire. However, the southpaw was all wrong for the Filipino and won the purists over - if not true fight fans - with a clinical display that saw him down in the 10th round. Rigondeaux won few supporters with this win and it remains to be seen if he will be able to advance up the list with other champions likely to avoid him like the plague.