Punchlines
David Price is urging Olympic gold medalists Anthony Joshua and Luke Campbell to turn pro.
By Nick Parkinson
Last Updated: 19/09/12 1:51pm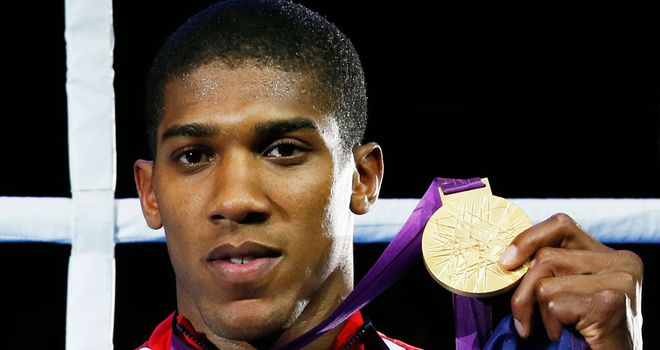 British heavyweight champion David Price is urging Olympic gold medalists Anthony Joshua and Luke Campbell to turn professional sooner rather than later.
Both Team GB stars have yet to reveal their future plans after their success at London 2012, but Price thinks the wisest move would be to move into the paid ranks.
Price, 29, won a super-heavyweight bronze medal at the 2008 Olympics after being stopped by Italian Roberto Cammarelle in the semi-finals. Joshua, 22, won a desperately close points decision over Cammarelle in the final last month and Price says the Londoner should take advantage of that triumph by ditching the amateur vest before Christmas.
Price and 2000 Olympic super-heavyweight gold medalist Audley Harrison, who Price defends his British title against in his home city of Liverpool on October 13, both made their professional debuts within a year of boxing at the Olympics. Price hopes Joshua and Campbell, who won his gold at bantamweight, do the same.
"Definitely they should turn pro now," Price told Punchlines. "If you can't turn pro on the back of a success in a home Olympic Games, if you are not going to do that, there is a massive chance you are going to miss the boat.
"It's all about striking while the iron is not and I would say sooner the better while their names are still pretty big.
"The general public tends to forget things. They can be reminded of things like he won the gold medal but I think the best thing would be to get their pro careers up and running before Christmas."
Promoter Frank Warren, who signed Amir Khan and James DeGale following their medal successes at the 2004 and 2008 Olympics, shares Price's opinion and is interested in adding Joshua to his stable.
He said: "Anthony Joshua I believe is a fighter that should turn pro as soon as possible. He has a good chin, a great punch and showed great bravery in the last round of the final. I don't see any point in staying amateur. He will just be fighting the same guys he fought at the Olympics and World Championships. I hope him and the other guys turn over. The sport needs fresh blood."
Quick Hits
Freddie Roach has warned Amir Khan that switching trainers will not improve him as a fighter.
After losing his last two fights against Americans Lamont Peterson and Danny Garcia in world title bouts, Khan has split with Roach after four years working with the trainer.
Bolton light-welterweight Khan, 25, grew concerned about being the American Roach's second priority behind Filipino Manny Pacquiao, the world's leading pound-for-pound fighter.
Khan, who is being lined up for a return to action in America on December 15, has just returned from a trip to America where he held discussions about who he will hire as his next trainer.
Virgil Hunter, who trains world No.1 super-middleweight Andre Ward, is the leading candidate to succeed Roach.
But Roach says Khan will still be second priority with Hunter and doubts the Briton will ever improve.
He said: "He says he doesn't want to take a back seat to Manny Pacquiao, but now he's going to have to take a back seat to some other fighter, because Virgil Hunter has a fighter that's a very dominant fighter right now [Andre Ward], and Amir's going to have to take a back seat to him.
"I think Virgil's technically a very good trainer, with the work he has done with Andre Ward. They look like a good fit.
"But can somebody change another person? I don't think so. I've been trying to get Amir to settle down for a long time now with no success. He likes to exchange a lot. I don't think that's going to change, but I wish him the best."
Humberto Soto, the Mexican former lightweight world champion who was stopped by Lucas Matthysse in June, has been linked with Khan for the December date.
Step up
Julio Cesar Chavez Jr, who was beaten on points by world middleweight No.1 Sergio Martinez on Saturday, could soon be on Carl Froch's radar.
The Mexican's trainer Freddie Roach admits making the middleweight limit is becoming a problem for Chavez, who if he does step up would go looking for the likes of Nottingham's IBF title-holder Froch, who defends his belt in his home city against Yusaf Mack on November 17.
"I've seen him suffer to make the weight and I think he'd be a much stronger and better fighter at 168 pounds," said Roach.
Instead of being a source of inspiration for him, the success of fellow Scots Andy Murray and Sir Chris Hoy has been something Ricky Burns has pushed to the back of his mind.
The WBO lightweight champion defends his title for the first time against English rival and former sparring partner Kevin Mitchell in Glasgow on Saturday.
Victory for Burns, 29, would be the latest sporting triumph for Scotland following up Murray's win at the US Open last week after he had also won gold in the Olympic tennis competition last month. Hoy won two golds at London 2012 to become Britain's most successful Olympian ever, but Burns is not drawing on the pair for inspiration.
He said: "If I think about what Chris Hoy and Andy Murray have achieved it puts added pressure on so I put it to the back of my mind.
"I've treated this the same as any other fight. We have sparred before with each other but I've not watched any DVDs of him. I'm prepared for anything that can happen on the night."
David Haye is expected to be elevated into the world top 10 heavyweights when the WBC reveals its latest ratings next month, boosting his hopes for making a fight with Vitali Klitschko next year.
The Hayemaker is also planning peace talks with the British Boxing Board of Control as part of the process to get a shot against WBC title-holder Vitali, 41, before he retires.
The former WBA world heavyweight champion has handed back his Luxembourg boxing license, which he used to box fellow Londoner Dereck Chisora in July. Haye-Chisora took place under the jurisdiction of the Luxembourg Boxing Federation after the Board indefinitely banned Chisora following the pair's brawl at a press conference in February.
Since stopping Chisora in the ring, Haye has met with the WBC earlier this month and it is expected the Briton will be reinstated among the governing body's top ten rankings next month.
Michael Sprott caused uproar in Germany at the weekend after shoving over a referee who awarded a fight against him.
The Reading journeyman, who was once British heavyweight champion and has twice challenged for the European title in the last two years, could face action from the German boxing authorities for shoving Austrian referee Gerhard Sigl to the canvas.
Sprott, 37, was furious at the official's decision to stop him after he got to his feet following a heavy knockdown against Germany-based Kazakh Edmund Gerber in the fourth round.
Sprott has been used as a sparring partner for world champion Wladimir Klitschko in recent years and regularly boxes in Germany, where he has had his last three fights.
He said: "I wanted to continue boxing and I'm sorry, I should not have done it."