Punchlines
James DeGale wants to put his career in fast forward so he can take on the likes of Carl Froch by next summer.
By Nick Parkinson
Last Updated: 26/09/12 5:29pm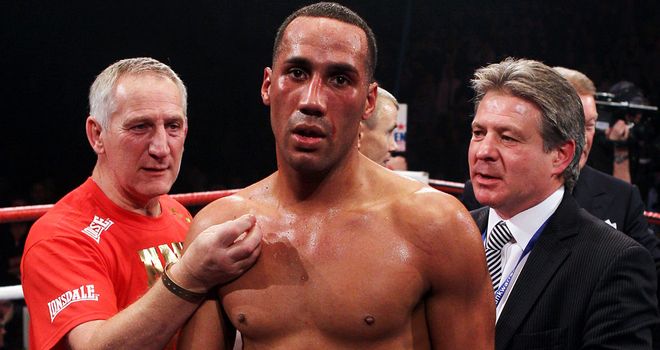 James DeGale wants to put his career in fast forward so he can take on the likes of Carl Froch by next summer.
The 2008 Olympic gold medalist admits his career has lost momentum in 2012, boxing just once since winning the European super-middleweight title on points against Poland's Piotr Wilczewski a year ago.
DeGale, 26, puts his inactivity down to a contractual dispute with former promoter Frank Warren. The British Boxing Board of Control is currently looking into appeals from both parties into its ruling that the London southapaw is now a free agent but the boxer must pay Warren 25 per cent of all earnings until April.
DeGale, who lost a narrow points decision to fellow Londoner and fierce rival George Groves in May 2011, is now working with a new promoter, Mick Hennessy, and is due to make a defence of his European belt in Kent on October 13.
DeGale hopes to box again on December 1 and the aim is that a busy schedule will see him earn a shot at one of the world champions next year, with Nottingham's IBF title-holder Froch top of his wish list.
He told Punchlines: "I have to be more active and I'll be fighting twice before Christmas. I'm happy to be on terrestrial TV and it will help get my career to where I want it to be.
"I'm ranked in the world's top ten with three of the governing bodies and Mick Hennessy has got a plan for me that by next year I will be boxing for a world title.
World champion
"Carl Froch is a great fighter and a road warrior who I really like watching. Fighting him next year for a world title would be a fantastic fight for Britain.
"I would box anyone at four weeks' notice for the world title if I was given the chance but really I need a few more fights to get back into the swing of it before I take on the likes of Carl Froch.
"I've had one fight in the last year and that's not on for me. I've had 13 pro fights since the Olympics and at this stage of my career I should be boxing at least four times a year.
"I've made my break with a new promoter and it's great to be boxing again on terrestrial TV so hopefully I can quickly get my career back on track.
"The aim is to be world champion by next summer, or on the verge of it, and I have some catching up to do."
Ricky Burns will have to wait until next year to take on one of his rival world champions after his brilliant fourth round stoppage of Kevin Mitchell on Saturday night.
The Scot produced his best display yet by flooring the London challenger twice in a second defence of his WBO belt in Glasgow and is due back in action in December.
Burns, 29, now wants to take on the likes of Mexicans Antonio DeMarco and Miguel Vazquez, who hold the WBC and IBF titles respectively and defend their titles in separate fights in the next two months. DeMarco - No.1 in The Ring magazine ratings - defends his belt against American Adrien Broner on November 17 while Vasquez faces fellow Mexican Marvin Quintero on October 27. The vacant WBA belt is contested between American Richard Abril and Ugandan Sharif Bogere on November 3.
Rival
Burns, who still works in a sports shop in his hometown of Coatbridge, will have to do with an alternative opponent in December, possibly Manchester's John Murray.
He said: "Hopefully we can push for a unification title fight next. I want to box for The Ring magazine belt and prove I'm the best in the world. It's vacant at the moment so hopefully they will see that and give me a chance."
Unbeaten former British heavyweight champion Tyson Fury is training in Belgium ahead of his ring return, expected to be in Belfast on December 1, the same night his domestic rival David Price is penciled to be back in action after October 13's fight against Audley Harrison.
Across the pond, the chances of Floyd Mayweather finally getting it on with Manny Pacquiao were boosted this week with the settling of a federal defamation lawsuit under undisclosed terms in Las Vegas.
The case has been settled, with Mayweather's team stating they 'wish to make it clear that they never intended to claim that Manny Pacquiao has used or is using any performance-enhancing drugs'.
It means one obstacle has been cleared for the two to agree terms. Pac Man has also recently said he is happy to take the smaller share of a 45-55 split.
Negotiations have stalled for more than three years over the split of the purse and American Mayweather's demand for random drug testing. However his Filipino rival claims he is will to meet Mayweather's demands on both issues.
Before the prospect of the richest fight in boxing history - estimated to be worth 200million dollars - being made, Pacquiao needs to beat Mexican Juan Manuel Marquez when they meet for a fourth time on December 8.