Scott Quigg and Martin Murray facing career-changing fights in Manchester
Scott Quigg and Martin Murray explain why they are facing career-changing fights in Manchester.
By Nick Parkinson
Last Updated: 20/11/12 10:10am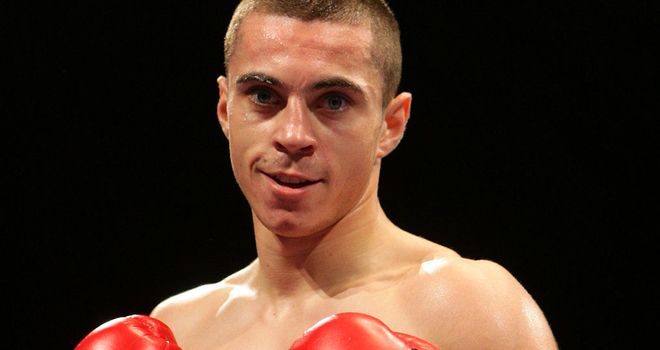 The Hitman comes out of retirement after three-and-a-half years to face Ukrainian Vyacheslav Senchenko at the MEN Arena.
Fights fans are looking forward to see if Hatton, 34, can make a triumphant return after overcoming depression and alcohol problem that led him to consider suicide following the two round knockout loss to Manny Pacquiao in May 2009.
The plan is for Hatton to blow away the cobwebs with a win over Senchenko - and then face New Yorker Paulie Malignaggi for his WBA welterweight title next year.
But there are also pivotal fights on the same bill for two of Hatton's promotional stable - Bury super-bantamweight Quigg and St Helens middleweight Murray.
Quigg faces Rendall Munroe for the WBA interim super-bantamweight title after the pair's first meeting in June was prematurely stopped when Munroe suffered a cut eye following a clash of heads in round three, resulting in a technical draw.
Quigg, 24, has since paid his own expenses for a two-week trip to train at the Wild Card gym in Los Angeles and believes a stoppage win against Munroe will prove he is closing in on the division's elite like Nonito Donaire (IBF/WBO), Guillermo Rigondeaux (WBA) and Abner Mares (WBC).
"This fight will give me a good idea about where I am at because Rendall gave a good account of himself in a world title fight against Toshiaki Nishioka two years ago," Quigg told Punchlines.
"If I scrape through I know I will be a long way off the best in the division but if I do a job on him maybe two more fights and I will be ready for the big names in the division. And I'm confident I will do a job on Rendall that no one else has done.
"The sparring in LA has given me added confidence. Just being around world champions and seeing how they go about their business was inspiring and I want to be like that.
"It has been a long training camp, 16 weeks in total, but I will still feel fresh come the night. I had to pay my own way to go out there but I see it as an investment in myself and the future.
"I'm in better shape for this one than I was in June for the first fight. I'm a better Scott Quigg than I was in June but I know I'm also going to face a better Rendall Munroe than I did in June. He knows this is his last chance so it's a dangerous fight for me which is why I've taken the training so seriously and had a long camp."
Murray, who like Quigg is promoted by Hatton, can also take a step towards the world elite on Saturday after claiming British rivals Darren Barker and Matt Macklin turned him down.
The St Helens boxer was upset when the judges returned a draw verdict after an excellent performance against Germany's Felix Sturm for the WBA title last year.
But Murray, 30, faces Venezuelan Jorge Navarro for the WBA interim title on Saturday and says he could be in line for a crack at world No 1 Sergio Martinez next year.
My team have put a good bid to fight both Darren Barker and Matt Macklin but they both knocked it back," he told Punchlines.
"Barker is coming off an injury so fair enough he turned it down but Macklin was offered £150,000 by my team to fight me but he knocked it back to fight for less.
"I've got my own path to follow. I know my management team have been in talks with Martinez's people but I have to get through this guy first."
Quick Hits
One of Ricky Hatton's main concerns for Saturday is that he does not burst into tears on the way to the ring.
The former world light-welterweight and welterweight champion admits his battle with personal problems will be on his mind when he walks to the ring - and he admits it could get emotional.
"I can't guarantee I'll be able to hold it together after the fight but before it it's what I've got to do," he told Punchlines.
"That's what a champion has to do. I could shed a tear on the ring walk when Blue Moon kicks in. I really will be choking them back, but I've got to use that in a positive manner and unleash all that on Senchenko. But let's not have another Manny Pacquiao revisited where I'm like a chicken with no head."
As Carl Froch and Tony Bellew both delivered in the ring on Saturday, their partners are looking forward to a delivery of a different kind.
The boxers' partners - both called Rachael - are both pregnant with Bellew's other half was due to give birth to their third son the day after the Liverpool light-heavyweight's controlled and dominant points win over Argentina's Roberto Bolonti in a WBC world title eliminator.
Froch's partner Rachael Cordingley is four months pregnant and will be due by the time The Cobra next gets in the ring after his ruthless three-round demolition of Yusaf Mack in last Saturday's IBF world light-heavyweight title defence.
James DeGale has a busy schedule. He fights in Hull on December 8, before a swift return to action at The Glow, Kent, for a defence of his European super-middleweight title against Mohammed Ali Ndiaye on January 26.