Kell Brook will look to make up for lost time when he fights Vyacheslav Senchenko
Kell Brook could be forgiven for feeling like he's stuck in his own version of Groundhog Day.
Last Updated: 25/10/13 10:12am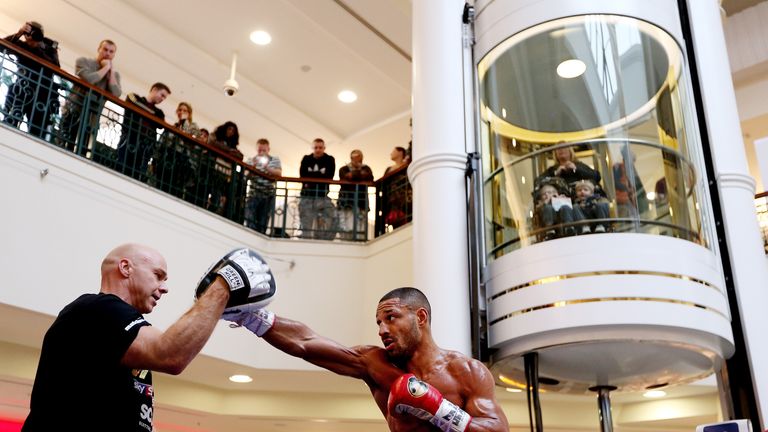 Just over 12 months ago he emphatically stopped Hector Saldivia in what was a final eliminator for the IBF title, much to the delight of all the Sheffield fans who came out to see him at the Motorpoint Arena.
This Saturday Brook will be back at the same venue with the same aim of becoming the next in line for a shot at the same belt.
The victory over Saldivia should have led to a showdown with holder Devon Alexander, only on three occasions the bout had to be postponed. Twice the Englishman was laid low by injuries, scuppering his dream of becoming the latest world champion from the famous Wincobank gym.
Instead he had to make do with a rematch with Carson Jones in July, this time recording an eighth-round stoppage against an opponent who had so nearly put a first blemish on his otherwise perfect professional record, in 2012.
Next up is Vyacheslav Senchenko, a man who didn't end Ricky Hatton's perfect streak but did put paid to his ring comeback, posting a result that not only sent the Mancunian back into retirement but also pushed the Ukrainian firmly back up the rankings and into the world mix again.
Tough test
Brook's trainer Dominic Ingle admitted at the press day that the 36-year-old from Donetsk should provide a tough test, but thinks such a challenge could bring out the best in his fighter.
"Here we are again, 12 months down the line," he told Sky Sports at Sheffield's City Hall, suggesting Brook had become the boxing equivalent of Bill Murray's Phil Connors character when stuck perpetually replaying out February 2.
"This time last year it was Hector Saldivia after Kell had been through life and death with Carson Jones. We've gone over old ground with Jones, put him to bed, and now we're back in with Ricky Hatton's conqueror.
"It's another tough test for Kell. But we can't be giving him easy fights - we've got to maintain him at this level if he wants to be a world champion, he's got to take these tough fights."
The Hatton fight, finished with a devastating body shot that 'The Hitman' had made his career out of, showed Senchenko still has plenty to offer. He is a former world champion and boasts a career record of 34-1, an impressive record even if those wins have come almost exclusively in the Ukraine.
However, his one reverse came when he was stopped by Paulie Malignaggi, a man whose career record of seven KOs hardly suggests he hits with hands of stone, in Senchenko's own back yard.
Like New Yorker Malignaggi Brook is known for his boxing skills, only he has shown the ability to get rivals out of the way well before the final bell sounds. Out of his 30 wins, 20 have been by stoppage, including his last two outings.
"Ricky, in his day, would have eaten Senchenko alive," stated Ingle
"I do think this will be a really tough test for Kell. He will be durable, he will be able to take everything Kell's got, but I'm thinking somewhere after the ninth Kell will catch up with him.
"He'll either stop him on his feet, or he'll mess him up and the referee will have to stop it. That's my opinion, I could be wrong but that's what I think."
Dedication
Such is Brook's determination to get his crack at Alexander he opted to spend eight weeks in the build-up living in a house next to his trainer's and just a stone's throw from the Ingles' gym, leaving his young family to dedicate himself completely to the cause.
"All they've had on television for the last eight weeks (in that house) are documentaries on Mayweather, Cotto...It's just been boxing, boxing, boxing," added Ingle.
"It's fair enough to say he's eaten, slept and watched boxing for the last eight weeks. He's focused and his mind is on it."
That focus could be crucial on fight night and beyond if he is to prove promoter Eddie Hearn's words about being a "special, special talent".
While it may feel like the last year has been one of dissatisfaction, the 27-year-old cannot do anything about making up for lost time now. He will get the chance to take out some of his frustration at the weekend against Senchenko, but should be wary of a man who knows how to play the role of party pooper to perfection.