Sport in 2014: Johnny Nelson, Peter Beagrie and more reveal their hopes
The Sky Sports pundits, including Peter Beagrie and Johnny Nelson, tell us what they want to see in 2014.
Last Updated: 30/12/13 9:17am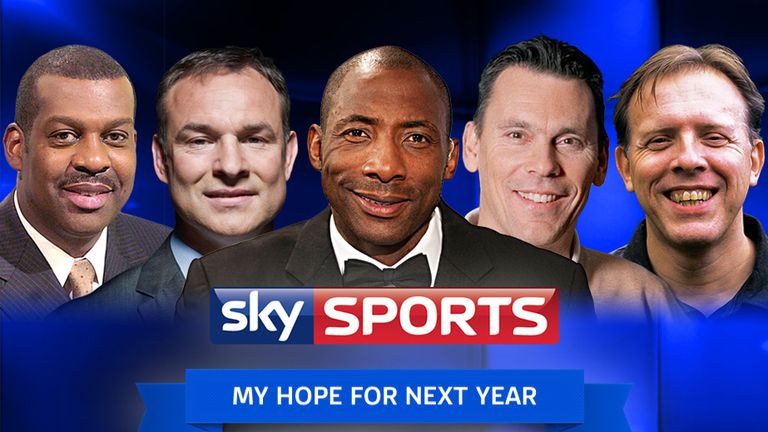 With a World Cup in Brazil, Andy Murray set to defend his Wimbledon title, and Europe and America going head-to-head at Gleneagles in the Ryder Cup, plenty of drama lies in store.
So we asked the Sky Sports pundits what they most want to see over the year ahead, with experts like boxing's Johnny Nelson, football's Peter Beagrie and NFL's Kevin Cadle getting our series underway.
Read on for their thoughts and then let us know what you want to witness in 2014 by filling in the feedback form below...
Johnny Nelson - Boxing
I would like to see, from our selfish point of view here in the United Kingdom, us finally get the fights we want and need. Obviously Darren Barker's possible retirement means we are going to miss one of those middleweights, but Matt Macklin v Andy Lee; Kell Brook v Amir Khan, Scott Quigg v Carl Frampton; and dare I say it, Carl Froch v George Groves II would be great! These are the sort of fights we don't just want to sit there and talk or dream about, we want them to happen. British boxing has been brilliant for the last six months but like any fight fan, I want to see more big fights made in 2014.
Peter Beagrie - Football
I would like to see more young English players plying their trade in the Premier League which, in turn, will benefit the national team. I wouldn't say I'm confident that will happen because while a lot of people at the top level make the right noises I find that they don't always take action and do things they have vowed to, but I believe in what new FA Chairman Greg Dyke is saying and think that appropriate action will be taken to ensure our bright young things get their opportunities.
Kevin Cadle - NFL
I would like to see fewer injuries, simple as that. This year has seen a record number of injuries and that is the one thing that needs to be looked at. I am not sure how they can improve things and maybe it is just luck, but we need to try and improve things. We have seen some of the biggest names and best players laid up over the last few months and that doesn't do anybody any favours. The NFL has been competitive and I want to see it get more competitive, but I want it done with the best players involved.
Neal Foulds - Snooker
I'm looking forward to the continuation of overseas players doing well in the game and seeing the abundance of young talent which is coming through develop. There are two or three young Asian players - one called Cao Xinlong, who is a tremendous talent - emerging and I think we really are going to see the invasion of a lot of Asian players over the next 12 months and beyond. This season we've not had one British or Irish player win a ranking event so far and Neil Robertson continued that trend at the UK Championship. In general, if you're looking at the best young players you're looking to China and I suspect we'll see Asian players other than Ding Junhui and Marco Fu figuring in ranking tournament finals - and even winning them - in the next year.
Rob Lee - Golf
I am looking forward to seeing if Tiger Woods can win a Major. Not only do we go to Augusta, we also go to Hoylake for the Open Championship and to Valhalla for the USPGA Championship - all venues where Tiger has won Majors before. So if Woods is going to add number 15 to his collection and end his long hoodoo, you would imagine it will be in 2014. However, I am equally excited to see if Rory McIlroy - now that he has ended his length wait for a title by winning in Australia in late 2013 - can get back to world number one or very close to it. I would love to see him run the tables next year.